JEEP - 4th STEP - DUAL BATTERY & SOLAR
Dual Battery & Solar System With 225 Amps And 260 Watt Solar Power
Due to our high demands on eletrical power, we needed something more intelligent than a simple cut-off relay and a service-battery. For our eletrical devices, like battery-chargers, power-banks, headlamps etc., we needed something more reliable, which wouldn't force us to stay on a camp-site.
A cut-off relay has a big disadvantage:
It usually loads the service-battery only, when the starter battery is fully charged. But what, if our soundsystem is running, the headlamps are turned on and maybe the air-condition or the heater is running? In this case, the service-battery practically would never be charged.
There might be some more intelligent cut-off relays on the market, but I also thought about some more power suppliers, like solar energy or something else. I also wanted both batteries to be charged parallel, as well as to boost the power, which comes from the alternator.
In this case I would have needed different devices:
. Cut-off relay
. Charge-controller (for the solar panel)
. Power-booster
But this system still would first charge the main battery and when it is fully charged, the service-battery afterwards.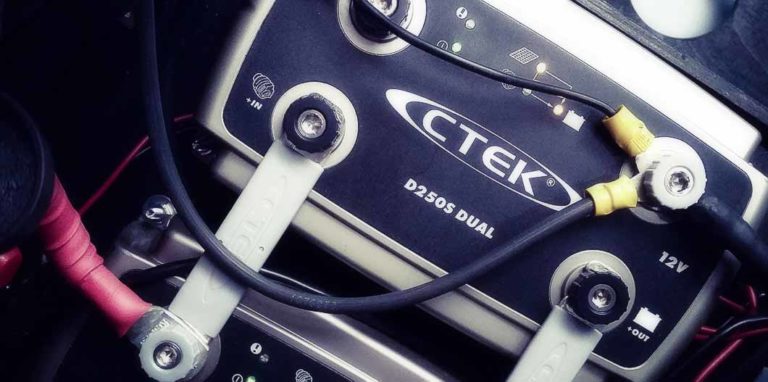 Dual-Battery System - CTEK D250S Dual
The All-In-One Solution
The starter battery of the JEEP is a Optima Yellow with 75 Aps, which is a pretty good and reliable one, but it hasn't enough power for supplying all of our devices.
I still had an Effekta BTL 12-150, which I used in my VW T4. It is a deep cycle AGM battery with 150 AH and can be discharged until 8.4 Volts (if I remember right)
After doing a lot of research, I found a system which could pretty much fit my needs.
Rather than buying 3 different devices, I decided to use one device that should manage everything.
CTEK D250S
The CTEK D250S is a Premium Battery Isolator, a Smart Power Relay, Solar Panel Voltage Controller with MPPT solar power management functionality and a temperature compensated 20A smart battery charger all combined into one multi-functional product!
The D250S DUAL on-board charger, charges while you drive; it gathers energy from multiple DC power sources (the alternator(s), solar panels and/or wind power generators) and optimizes power to properly charge your service battery bank with microprocessor controlled smart charging algorithms and provides temperature controlled charging to meet the charge requirements of your service battery bank in any weather. It increases simplicity and reliability by eliminating the clutter of many individual components including battery switches, secondary battery isolators, relays, load managers, low voltage alarms and cutoff's, separate solar panel and wind generator voltage controllers, etc.
(source: CTEK)
CTEK D250S Dual, CTEK Smartpass, CTEK MXS 25
With the system above, we already had a highly reliable power-management, but to make it even better, we also decided for getting the enhancement.
CTEK Smartpass
SMARTPASS is a smart automatic dual battery isolator switch and energy management unit which controls and optimizes energy produced by alternators, solar cells, wind power or conventional AC/DC chargers. It distributes power to battery banks or consumers depending on energy needs, such as the service battery bank, bow thruster or anchor chain hoist batteries or power consumers like refrigerators, radio's, etc.
Used together with a D250S DUAL DC/DC on-board Battery Charger, SMARTPASS provides optimal charging via CTEK's unique multi stage charging cycle, which also protects your batteries. SMARTPASS also has an integrated "Battery Watch" feature which protects batteries from harmful total discharge and ensures that critical equipment such as radio, emergency lights and navigation systems get the proper priority to provide maximum functionality. SMARTPASS has a temperature sensor which protects batteries against high temperatures.
(source: CTEK)
On top of that, we've got the CTEK MXS25, a 25ah battery charger, in case we would stay on a campground with 230V electricity.
100 W Solar Panel, Mounted On The Roof Rack
225 Amps Of Battery Power & 260W Solar Energy
Now with that system up and running, we also added a 100W solar panel on the roof rack. The connection has been pretty easy. Without the need of a MPPT solar charger, we just plugged it into the D250S Dual and the solar panel worked from the beginning.
LED indicators on both devices always giving feedback of the current status, either if an error occurs, or the system is in standby or when it's charging the batteries.
And as everything has been so easy to connect, we furthermore added a foldable 100W CIGS solar module and small solar suitcase of 60W. The problem with the roof top solar panel is, that its direction cannot really be changed. But for getting the most out of a solar panel, it's necessary to rotate it with the sun.
The foldable CIGS module just weighs 3.6 KG and the suitcase is also a lightweight of under 8 KGs. Both can be placed everywhere around the car. Their cables are 5 and 4 meters long and are equipped with water restistant MC4 plugs.
All in all we now have a very strong power management system with 225 Amps of battery power as well as a solar system with 260W. Under the very best circumstances it should bring approx. 17,7 Ampere per hour, when we're not driving, enough for all our batteries and electrical devices.
Final Conclusion & Personal Opinion
In all our cars we ran in trouble, when it came to power consumption. We never had enough of it. The cut-off relays didn't work very well and the one or other battery always ran out of power. Either we had problems with starting the car or our food got spoiled.
With the CTEK-System all problems are gone. While driving, the system charges all batteries with full force (and much faster than with only the alternator) and the solar panels are supporting the process.
I don't know really, how this system works exactly, but it works perfectly, even if some fiddling has been necessary to connect all the stuff. Main problem has been the manual for these devices. CTEK speaks about very thin cables and in the first weeks I was wondering, why the system didn't charge properly.
I either had to change the fuses or the cables, as my cables have been much too thin. On the other side it hasn't been explained very well, where to get the ground connection from, so it took some time to get it all working.
Nevertheless I can fully recommend the CTEK devices. They are very well built, of TOP notch quality and worth their high price.
The solar panels are doing a great job too and granting us a self-sufficient time of about 2.8 days in average.
100 Watt Foldable CIGS Solar Suitcase
Here you'll get an overview, of what we're charging/supplying over the day:
. WAECO Mobicool Q40 (45W, 3.75AH, 24hrs, non-stop)
. 2 DJI batteries (2 times, à 10AH, 120min overall)
. 6-8 digital camera batteries (8hrs)
. 18A Dino Powerbank (trickle charge, 4hrs)
. several smaller batteries for headlamps, tooth brushes, torch lights etc
. Shureflow Junior waterpump (not worth mentioning 😉 )
. JBL Charge 2 Plus (bluetooth speakers, 3hrs.)
. JEEP Stereo-System (2 hrs)
. Samsung Note 3 (8hrs)
. iPhone 4 (3 hrs)
. Samsung Galaxy S2 Tab (2hrs.)
Feel free to ask me any question about the system.
In the near future, I also want to write a "How-To" article about the CTEK stuff 🙂