OUR TRAVEL-PHOTOGRAPHY EQUIPMENT
CANON IXUS 700 - Has been part of my photography equipment since 2004 - And Still Alive
I'm photographing since 1989. When I started traveling in 2005, I only had a lil' Canon IXUS 700 and a Panasonic Videocamera with me. Even in this time, I've been able to shoot beautiful images with it. With the "Video-DSLR"-Boom, my demands increased and a few years later, I used Canon DSLR's for "the great cinematic look".
Before I planned our trip to the US, I waited yearningly for the upcoming Canon 7D. With the 7D, I needed a proper tripod, a good slider, a good photo-video head and lots other things. A LowePro photographic belt with dozens of lenses, filters, batteries and so on.
At this stage I didn't care about weight, but a few days later I wished I had 😀
Walking down the Bryce Canyon with a heavy and unhandy rig of 10-13 KG wasn't a fun at all... I got pain in my back, in my butt, my shoulders and I felt muscles, which I never imagined they would exist.
Me At The Grand Canyon, 2010 - At That Time My Photography Equipment Weighed Around 13 KG
After years and dozens of travelings, I learned a lot. And the most important part on that lesson has been: DO NOT listen to others!
I sold all my equipment for much less of what I paid for...I mean ->much TOO less and I thought about a new (weight)-plan. I just wasn't willing to carry a heavy tripod and a camera with me, which would be heavier than 3 or 4 KG, but I also wanted a fancy DSLR.
So this is, what I'm actually using and I'm super happy about all the stuff, as its overall weight is under 10 KG.
I switched to Panasonic and its Micro Four Thirds programm, which offers professional quality and a low weight and size (not to mention the price-tag though  😉 )
My Actual Complete Photography Equipment Weighs Under 10 KG
But before I'm starting with showing off my fancy gear, I need to say, that even if you'll probably see any kind of advertising here: This is, what I'm actually using and I'm doing it for a fu**in' good reason:
I'm absolutely convinced by all the stuff and about what I'm writing here, so eyewashing is not my intention, neither for just a few cents, nor for much more money! ... just to mention that!
The Panasonic Lumix GH5 - Panasonics 2017 Flagship - is a 4K MFT camera which comes up with a superb 20 MP quality. It's weight is about 725gr., not a real lightweight anymore (expecially with the batterygrip), but still lighter than a Canon EOS 5D.
The real advantages - and the 2017 neckbreaker for any other camera - are the 4:2:2, 10 bit video output, Vlog, greater dynamic range, dual image stabilization, 2 SD card slots, Pull Focus, 6K Photo/Video mode and 180fps slow motion mode in FullHD.
The 4K and FullHD video quality is outstanding, the handling is really great and all the settings aren't a problem for a Pro (but maybe for a newbie, as it comes with hundreds of settings, even more than with its predecessor, the GH4, which I've used before)
I mainly will use the GH5 for video and time lapses, but rarely for run'n'gun.
I dare to say, that the GH5 is (in 2017) the very best camera you can get, not only for the money, but rather for its unbelievable functionality and quality.
Panasonic Lumix GH5 - Battery Grip
Panasonic Lumix GH5 - BatteryGrip
Usualy I wouldn't need a battery grip. It adds additional weight and makes the camera quite unhandy. But for long exposure time lapses, like Day-To-Night-Time-Lapses, the GH5s batteries aren't strong enough and especially in video mode, the GH5 sucks a lot of energy, so a second battery is essential.
The grip comes with a battery slot and lots of buttons for using the camera also in portrait mode.
It's weater sealed (like the GH5 itself) and gives me enough power for shooting more than just a few hundred photos at night.
Panasonic Lumix GX8 - The Perfect Travelers Camera
Panasonic Lumix GX8 - Backup'N'B-Roll
I've learned from mistakes and one of them was, to do not have a second camera, while traveling. In this case - and for B-roll purposes - I've got the Panasonic Lumix GX8. Also a 20 Megapixel-4K camera, but much lighter and smaller than the GH5. Its quality is superb too and it comes with lots of professional settings, which makes this tiny 'lil to a great B-Roll camera. I like it better than my old GH4, as it comes with slightly increased dynamic range and a better low light performance as well as with a great viewfinder. All in all the perfect camera for the traveler who wants the best for his money.
My standard day-by-day lens is a Panasonic Lumix G Vario 12-35mm/2,8 OIS. Because the GH5 comes with a crop-factor of 2.2 (or so), it's actually a 24-70mm lens which fits perfect my needs as a landscape photographer.
I really cannot say anything bad about every single MFT lens, which is made byPanasonic. I had a lot good lenses from Canon (L), Tokina and Sigma, but the built quality of such a Pana-Glas is really absolutely great. The image-quality isn't anything I need to worry about. No noticable chromatic abberation, no noticable purple fringing and other technical shit I don't want to mess with.
The Panasonic Lumix G X VARIO 35-100mm f/2.8 Power OIS is nearly the same as the 12-35 - quality wise - but it's focal length is bigger, good for "far-away-but-not-too-far-away-objects 😉

These lenses are sturdy, doesn't contain too much plastic and are weather sealed, so no problems with a bit of rain.



But hey...they are NOT waterproof!... just to mention that ;).
Panasonic Leica DG Vario-Elmar 100-400mm f/4-6.3 ASPH
Panasonic Leica DG Vario-Elmar 100-400mm f/4-6.3 ASPH
It's heavy, it's sturdy, it's metal. The Leica is a technical masterpiece in terms of build-quality. The image quality is great, not exceptional for that very high price tag, but the huge focal length of 400mm (880m@2.2 crop) really makes up for the offset. Now it's possible to shoot the stars and even some "Deep Sky Objects" like other galaxies, nebulae or starclouds etc.
The Leica supports Dual Image Stabilization and even at 400mm it's steady as hell. It's water resistant and weather sealed, looks "pro" and it's the first time for me, that I'll attach a camera to a lens, rather than vica versa 😀
Together with the 12mm, f1.4 Leica it's the best, what you can get for the MFT-System.
The JEDI Of The MFT-Lenses
Panasonic H-X012E LEICA DG SUMMILUX 12 mm F1.4 ASPH - Should Be Part Of Every MFT Photography Equipment
Well... last but not least... THE LENS... THE YODA OF ALL LENSES... And THE JEDI ON THE BRIGHT SIDE OF POWER... Those spectacular Panasonic H-X012E LEICA DG SUMMILUX 12 mm F1.4 ASPH.
Apart from its max. aperture of 1.4 (which is... uhhhh... nice) and the nice wide angle focal length, it's just like having sex with a piece of metal and glas.
I had a lot of lenses in my hands and even if the Canon "L"s are the swiss army knifes... this Pana beats them all (ok, ok, except the ZEISS lenses, maybe 😉 )
The built-quality is sUpErB! Everything is out of metal, the focus ring moves soft like a tissue that floats over a table , ok, it's big and heavy, but the image-quality... hmmmm... it doesn't matter if you shoot with f1.4, f8 or whatever...it is just brilliant and the best lens, I ever owned.
This lens is made for the rest of my life...and worth every (freakin' expensive) cent!
And the best thing is... shooting Holy-Grail-Day-To-Night-Time-Lapses aren't a problem anymore... yeeeehawwww!
Lens-WHAT? Lens Heater?
Even I didn't know, that such gadgets exist, but once you shot a night time lapse and later on perceived a blurred image, caused by a bloomed lens due to dew, you know, what I'm talking about 🙂
Here comes the dew heater in the game.
It's a smal belt, which needs to be wrapped around the lens. Once plugged to an USB charger (NO laptop!), it heatens up and keeps the dew away from the lens.
Great stuff, which is a must have for all night sky photographers.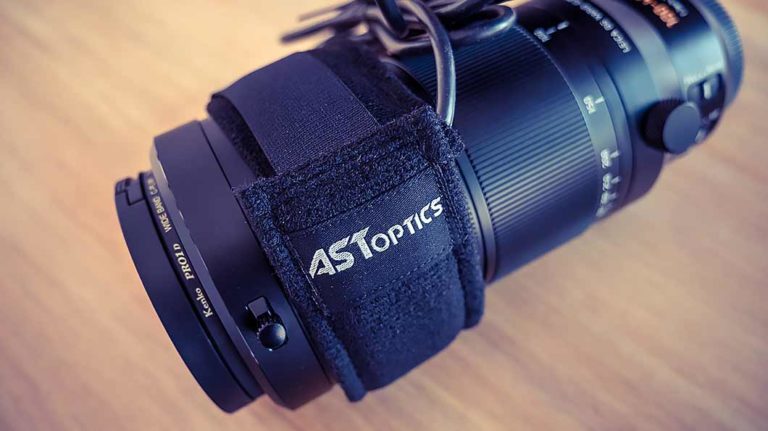 TS Optics Star Pointer Finderscope
Not really a lens though, but a nifty toy for the night sky.
A finderscope like the one from TS Optics makes it much more easy to locate Deep Sky Objects like Nebulae, Galaxies and Clusters. Once aligned with the cameras lens, it projects a red or green dot on a mirror and shows you, where your lens is looking at.
TS Optics Star Pointer Finderscope
Tripods, Heads, Taggers, Viewfinder And Other Stuff
Speaking about TRAVEL photography and videography necessarily means, speaking also about the rest of all the minimum-lightweight-stuff, you'll need.
Therefore I use super lightweight tripods like the Sirui 1204X Travel Tripod which is just 800gr. and made of carbon fibre, as well as a set of Cokin grey-filters, ND Filters, some nice videoheads, like the Manfrotto 701 HDV and a GPS Tracker.
The Sirui 1204X Carbon Fibre Tripod is one of the best buys, I did so far. That tiny thing is incredibly light and very, very strong ( I mean, for 800 gr.?). I'm using it since 5 years now for 99% of all tasks, whereas the Triopo GT-25L Tripod looks nearly the same, but is only a third of the price of the Sirui. It shall carry 7 KG and of course it would, but I don't like it so much, as it is way more wobbly.
A great videohead is the Manfrotto 701 HDV, which is barely light, super sturdy and its movement is mega smooth. I also own some other heads like the Gitzo G 2180 and some ball heads, but the 701 is top notch. A good compromise between weight and  intended use.
Don't ask me about the Mindarin ASTRO Time Lapse Motor. It barely does its job, but more bad than good. When moving, the final video is jerking a lot and I always need to stabilize the shots afterwards. There are other motors on the market, like the SYRP, but even those ones broke a day after purchase. So either you need to spend a lot of money for getting something really great, or you'll get just nothing. (paying peanuts, getting peanuts 😉 )
Mindarin ASTRO Motor on a Triopo N-1 Carbon Fibre Tripod & Manfrotto 701 HDV Videohead on a Sirui 1204X Travel Tripod
EXIF data is essentiell for every photographer and for me as also a stockfootage photographer and videographer, proper GPS data is even more important.
Most of the higher end cameras don't come with a built-in GPS module, so you'll need another solution which makes it comfortable to tag your photos with location data.
Here comes the Columbus V990 Geotagger in the game.
This lil' toy captures your position every single second and writes the data into a CSV-file.
These CSV-files can be (converted into *.gpx) easily read by programms like Lightroom or Geosetter. With just a click you are able to locate, where a photo has been shot.
Furthermore it records a whole track and informs you about height, speed, acceleration and much more. This data can be easily viewed in Google Earth and even after years you can exactly say, how fast you've been on a specific day.
The battery lasts for r.a. 16 hours and every morning, I'm using a strap and wear it around my neck. One simple button-click and the journey can begin.
Columbus V990 Geotagger - Part Of My Actual Photography Equipment And A Must Have For GPS-Fans
Kamerar QV-1, ZOOM H2, Samsung Galaxy S2 Tab
When shooting in the bright sun, a Viewfinder can be useful.
Mine is a Kamerar QV-1 Loupe, which will be connected to the GH4/5 with a small magnet. It has a 2.5x magnification and is pretty helpful, when filming.
Kamerar QV-1 Viewfinder, Loupe - Part Of My Actual Photography Equipment And A Very Usefull Gadget In Bright Sunlight
ZOOM H2 & Samsung Galaxy S2 Tab
For audio recordings (foley stuff), I'm using a ZOOM H2 recorder.
It records in 4 channel 24 Bit and the recording quality is super cool...great for recording birds, blowing leaves, steps or other sounds like flowing water etc.
For remote shooting via WiFi, I'm using a Samsung Galaxy S2 Tab in 8 inch. This 8" Android tablet makes it easy to remote controll the camera inside the car, whereas the camera is mounted on the hood of the car. The tablet itself is very lightweight, pretty fast, super thin and very reliable. I have approx. 200 apps installed on it, so I'm furthermore using it for  piloting my drone, for searching the Milky Way, calculating exposures or searching for campsites.
The Samsung Galaxy S2 Tab is in fact one of the most important parts in my equipment and highly recommended!
Zoom H2 Audiorecorder and Samsung Galaxy S2 Tab - Part Of My Actual Photography Equipment
Giottos Rocket Airblower, Cokin Filter Set & eneloop Batteries
Nothing is more annoying than dust on your cameras sensor. I'm not such a fan of wet cleaning, rather than using air pressure for getting rid of any sensor obstacles. The Rocket Airblower by Giotto is a must-have for this task. It's a bit too big, but does a perfect job.
When shooting on bad weather, a filter set can help you increasing the contrast or saturation, or lets you adjust your exposure better, by using a gradient filter.
For these tasks I like to use a Cokin Filter set with different filters.
The set is made of plastic and some say, that it decreases image quality.
Yes, that might be true, but because I already own pretty sharp lenses, I can easily ignore the fact.
For my headlights, a torch or my time lapse motor, I solely use eneloop rechargable batteries.
These batteries are highly reliable and the best on the market, as they hold their load for months with losing its charge. Not in any way comparable to standard rechargable batteries.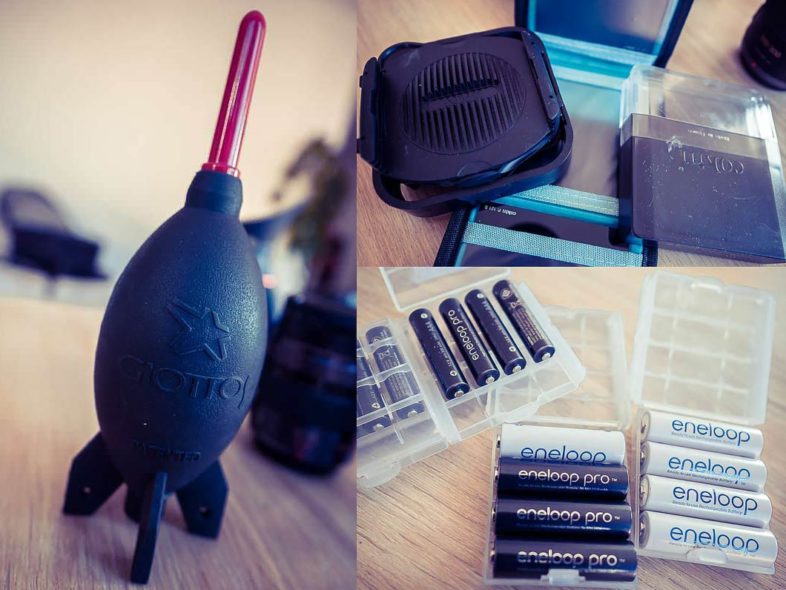 Giotto Rocket Airblower, Cokin Filter Set, eneloop Rechargable Batteries - Part Of My Actual Photography Equipment
POWERBANKS
Something of which you never can have enough, is power.
At the moment I need to charge round about 20 batteries from the heavy DJI batteries (which already suck 5Amps), over the batteries of my two cameras, as well as some for torch lights, lens heaters and the Astro mount. Last but not least our laptops, smartphones and tablets.
Beside my main battery, I'm using so called powerbanks.
They come in different sizes. The smaller ones for smartphones and tablets, bigger and stronger ones for laptops and other electrical devices.
I'm using a "Dino 18.200 mAH" powerbank which is mainly for starting the JEEP, (once its battery is empty), but for my photographic equipment, I took the "AOMASO 42.000 mAH" bank with 3 USB 3.0 Ports and one cigarette lighter plug.
AOMASO 42.000 mAH - Powerbank
DJI Phantom 3 Professional - 4K Quadcopter
Because the best always comes at the end, I'm introducing my "filming bird"....the DJI Phantom 3 Professional.
Seeing the world from down below is for the most travelers an amazing experience...standing in front of the "Grand Canyon" or on the caldera of the "Piton De La Fournaise", the "Haleakala" or at the "Waimea Canyon" is so breathtaking, that it makes us feel as small as ants in this wonderful, big, big world.
DJI Phantom 3 Professional - New To My Photography Equipment, Since 2015
Seeing the world from above makes us even smaller.
I'll never forget my very first flight and my worriedness about crashing a 1600€ copter, but when I saw on the tablet what was going on 100m above me, I got goosebumps all over.
In what beautiful world we may live...how big everything is and how much more beautiful.
That's the reason, why my copter is always on my side. It's the perfect enhancement for my wonderful hobby and I imploringly hope, that I still "will fly" until I die 🙂
Flying in Andalusia with a DJI Phantom 3 Professional
Well...that's it for the time being with all the techie-nerd-gadget-stuff 🙂
Enjoy and ask me questions about what you still wanna know, or what is still unanswered.
In the end, here you see the very first movie, which I filmed with the drone.
PS: Watch the movie in 4K fullscreen... it's worth it 🙂
If you have any further questions about one of the products above, don't hesitate to ask.