A new star is born and ranks under the TOP 3 of our destinations we've visited so far: COSTA RICA.
We spent 6 weeks in Costa Rica from December 2017 to January 2018 and drove self guided 3539 KM from north to south, passing rain forests, national parks, beautiful beaches and an amazing wildlife and nature.
This article won't cover our day-by-day trips, rather than giving a comprehensive overview of what you're going to expect in this absolutely stunning middle american country.
Costa Rica is paradise.
It's a paradise for adventurers, fauna and flora lovers, landscape and nature lovers, backpackers, offroaders, camping fans, photographers and star seekers. It's for the lazies, for the crazies, for the hikers and bikers... it's a place for just everyone.
It shelters more than 500.000 different animal species, 10.000 different plant species, it has 12 different climate zones as well as of dozens of microclimates and its biodiversity is under the worlds top 20.
Costa Rica has preserved its originality to this day and that's what made it so fascinating to us.
WE JUST LOVE IT 🙂
The Amazin Wildlife Of Costa Rica
Traveling In December
December is dry season and the summer begins.
The temperatures start to increase day by day and can vary from 2°C at the higher points like the Irazu volcano, up to 34°C at the beaches.
The humidity is always high, especially near the rain forests.
We found it much too hot sometimes and one should be prepared to the temperature contrasts, when travling into the higher areas.
At the beginning of december it still rains (but will decrease), especially in the Monteverde region, where it usually rains a lot. So we always had rain in the middle and north of Costa Rica, but no rain all along the beaches.
When traveling to Costa Rica, you always should consider bringing clothes for every situation, as long as you're planning to travel through the whole country, like we did.
Sweating At The Punta Uva, Near Cahuita
Rental Car

When coming to Costa Rica, you might consider a proper rental car. Whether you wanna explore parts of the country just for a few days or you're planning to stay in your car, rather than in hotels, there are several cars available.

We always wanna camp with our car, so we're always searching for a 4x4 offroad camper. We don't know, if mobile homes are available, but we guess they don't even exist in Costa Rica... and who wants to go into the real wild with a "Tupperware"? 😉
Nomad America - Our Way To Go!
The only company we found so far, has been Nomad America. They're offering several 4x4s in very good condition and fully equipped. It's just a matter of how much money you wanna spend for the luxury, when going off the beaten track.
Fabio and his team are just great. Their service is absolutely brilliant, they're helpful, competent and are offering really strong cars for every situation, they even prepared our Toyota 4Runner for our special needs.
Our 4 Runner has been a beast, both on the road and in the wild. It has been fully equipped with a rooftop tent, matresses, sleeping bags, all the camping gear, like gas oven, cutlery, water tanks, shower and so on.
The car has done a superb job and never broke down, no matter how tough the track has been. It has been well maintained by Fabios crew, granting you adventures without hassles.
Fabio is offering a shuttle service from the airport to their base for no extra charge and you're welcome to stay there within your car for the first night, before your adventure begins.
Even if we don't get money for this advert here, we wanna strongly recommend these guys and their cars 🙂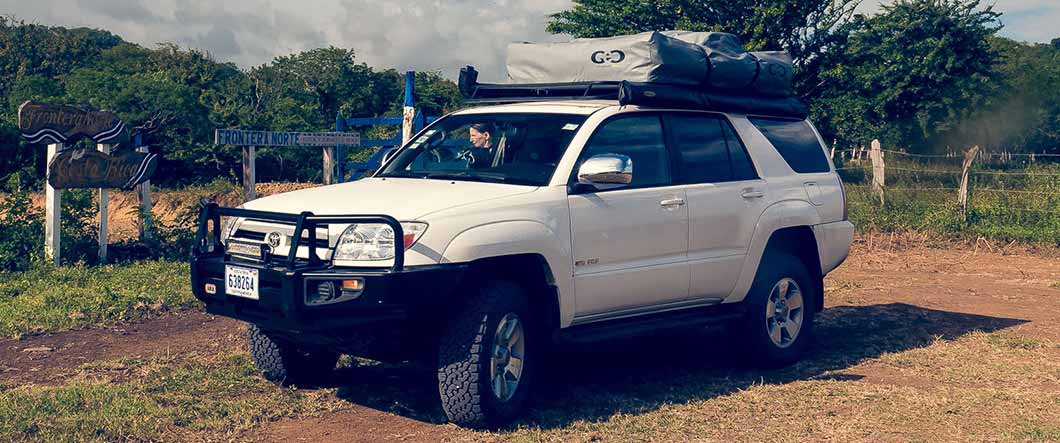 Fully Equipped 4x4 Offroader: Toyota 4Runner
Getting Prepared  | Money, Food, Internet
Before starting your adventure you might wanna get a sim-card for internet, buying some food, water, gas and other stuff, which you need to pay with Costa-Rica-Colón or sometimes dollar.
In Costa Rica you're able to pay with credit cards, standard bank cards as well as with hard money... pretty much straight forward.
Food, water and other stuff you'll find in the main supermarkets, like "Maxi Pali", "Walmart" and "Mini Super" (the last ones are really tiny 🙂 ).
Along your way, you'll always pass those "Pulperias", which are little food stores, too.
Bread and other pastries, you'll get at the so called "Panaderias", gas, tools and other hardware, in stores called "Ferreteria", just to name a few.
Repellents and other drugs/medicine you'll find in "Pharmacias", but that's a topic, we wanna speak about later.
Btw: At one certain point you will ask yourself what a "Soda" is (we did! 🙂 )
"In Costa Rica, soda, small diners specializing in typical local food, serve stick-to-your-ribs, hearty meals for a few thousand colones"
We never tried a "Soda", though.
Just to mention, because you may ask yourself several times, what it is 🙂
For the internet we highly recommend sim cards from Kölbi or Movistar, but for a start, Nomad America will also provide you with a proper smartphone and 2 GB of data. Both cards are available pretty much everywhere and we recommend to buy both cards, as in most situations one card works, when the other one won't and vica versa.
In 2017 Movistar started a test with a 23 GB data simcard, which we used for free.
It worked nearly everywhere, has been valid for one month and should cost something around 70 Dollar.
"Water, water, every where,
And all the boards did shrink;
Water, water, every where,
Nor any drop to drink"
(The Rime of the Ancient Mariner , by SAMUEL TAYLOR COLERIDGE)
The most asked question for sure is, whether the water in Costa Rica is drinkable.
Well... we're not sure!
Some say it's drinkable without any problems, others say it may cause stomach problems. Whereas for a native it won't be any problem, it can be a problem for europeans, or groups who aren't used to chlorinated water. We never drank water out of the tap, we rather bought it in huge bottles or canisters.

Mini Super Anywhere To Find In Costa Rica
"Where The Streets Have No Name" -  Traffic | Security | Things To Know
First of all: Ticos and Ticas (colloquial term for a native of Costa Rica) are great.
I love this curios, very helpful and hospitable people. We never felt unsafe for only one minute, so be sure, Costa Rica is one of the worlds most peaceful and safe places.
Apart from that, the traffic in urban areas is insane, especially in San Jose. People driving like crazy and you need to pay lots of attention to not crashing your car. On the highways though, they are driving slow. Really, really slow...and always on the left side, no matter what. They just don't give a shit, if there's a huge queue behind them and sometimes... no... often they'll be overtaken by trucks from the right. So you just need to get used to it 🙂
The police seems to be aware of it, but they even don't care.
There's not so much police presence as you might think. We only got stopped once by two policemen due to a drug control, but in general you won't see them often.
Btw: entering highways will charge you a small fee and from time to time you'll arrive at a toll station, where you need to pay some cent. The main streets and highways are mostly in good condition. Gas stations you will find all over, they're pretty much everywhere, but when leaving the main streets always consider a full tank.
"Nothing Is A Bad As It Seems"
When leaving the cities, you'll notice that the quality of the streets will rapidly change.
Pott holes, gravel roads and kinda offroad tracks will lead the way. Most interesting is, that Ticos drive there with their standard cars and you instantly think: "Why the hell did I rent an offroader?" 😀
In the Guanacaste area for instance the streets are worst, but most exciting as you need to cross rivers from time to time.
Attention: Crossing rivers and damages by water aren't covered by the car insurance.
Always check the water depth and decide whether it's a risk you can take or if you better try to find a way around. If the way around is too long, maybe wait until a native will cross the river, then reproduce his drive through.

Again: WATER
You'll need lots of it. Especially in the dry, summer season, when it's getting really hot, you may wanna take a shower every morning and/or evening.
In this case, we can highly recommend, gathering water when crossing a river.
Every river we crossed, carried absolutely clean and clear water, which we gathered in the cars watertank. This watertank is a pipe along the car, equipped with a simple tap, where you're able to attach a provided hose. Perfect for a short shower!
We never used a real shower within this 6 weeks, we only showered with rain- or river water, which was a real fun (and not so bad for the environment 🙂 )

Crossing Rivers Isn't Only Fun, It Provides With Water, But Can Be Risky, Too
Wild Camping VS. Public Beach Zone (Maritime Zone)
Wild camping seems to be forbidden in Costa Rica, but we actually really don't know if it's true, as we camped in the wild all the way and nobody cared. The other way around people were really nice and we had lots of wonderful chats with Ticos and Ticas, no matter if we camped at the beaches or in the bush.
On the other side, there is this so called "Maritime Zone Law", which grants public access to beaches within a dedicated area. Thus, in Costa Rica, there is no such thing as a completely private beach.
We always took care about our rubbish and never ever let it at the place, where we stood for a while or for a night. As long as you keep this in mind and as long as you won't camp on private property, nobody will say a bad thing... you're always welcome!
Apart from that, one needs to know, that Costa Rica has its problems with waste disposal. You rarely find trashcans at beaches or public places and some beaches are flooded by trash. That's such a pity.
But when driving through Costa Rica you may notice this strange wire mesh boxes along the streets and in front of private properties. These are trashcans of residents.
Ok... I must admit, that it's no way to behave, putting your own trash into these boxes, but nevertheless it's better than leaving it anywhere else, right?
Another option would be, using trashcans at the supermarkets.
"Leave a place, as if you never have been there" and you will have a really great time in Costa Rica.

Fauna & Flora And The National Parks
With its vast amount of different animal species and its breathtaking Flora, Costa Rica is really a special place. Seeing wildlife in its real environment rather than in a zoo is such a wonderful experience, we will never forget and we couldn't imagine to see animals just on the go, without visiting a National Park.
Of course we've visited the one or other National Park, Costa Rica has lots of them.
Every single one had its charme, but in the high season lots of tourists were there, making noise and were chatting all the way. They rather paid lots of money for a guide, who showed them some hidden animals, which they would have been able to see also without a guide, just with a bit of patience and silence.
Costa Rica Can Be Expensive
Nearly every public attraction, whether it's a National Park or a waterfall, will cost you money. In most cases they charge something around $15 each, plus a guide, who will charge $30 an hour.
We think... no... we are sure, even if it's important to support the National Parks, it's not necessary to spend money for seeing nature and animals, which you can easily see also in the wilderness.
On your way through Costa Rica you definitely will see the most important animals, while staying in the bush, at the beaches or by walking through rain forests.
That said, you will be going to sleep with the sounds of Tucans and you'll wake up with the growling of howler monkeys... not matter what.
If you want to see them, just stay calm for a while, sitting anywhere and watch up to the trees or down to the ground, something is always moving.
The more calm you are, the closer they will come to you.
So, when watching our gallery, you'll see, how many animals we captured with our cameras. Some of them have been so close, that I needed to change my lenses from tele to more wide.
Howler Monkey | Sloth | Toucan | White Headed Monkey | Ara
One photographers tipp:
Bring a couple of lenses, lets say one 24-70mm and one 70-200mm and you'll be able to capture most of the animals.
My main equipment has been:
Panasonic GH5 & Panasonic GX8
Samyang 7.5mm, F3.5 UMC Fisheye
Panasonic H-X012E LEICA DG SUMMILUX 12 mm F1.4 ASPH
Panasonic Lumix G Vario 12-35mm/2,8 OIS
Panasonic Lumix G X VARIO 35-100mm f/2.8 Power OIS
Panasonic Leica DG Vario-Elmar 100-400mm f/4-6.3 ASPH
Quadcopter DJI Phantom 3 Pro
In this case (with a crop factor of 2) I had focal lengths between 15mm and 800mm available, so pretty much perfect for my needs in the jungle 🙂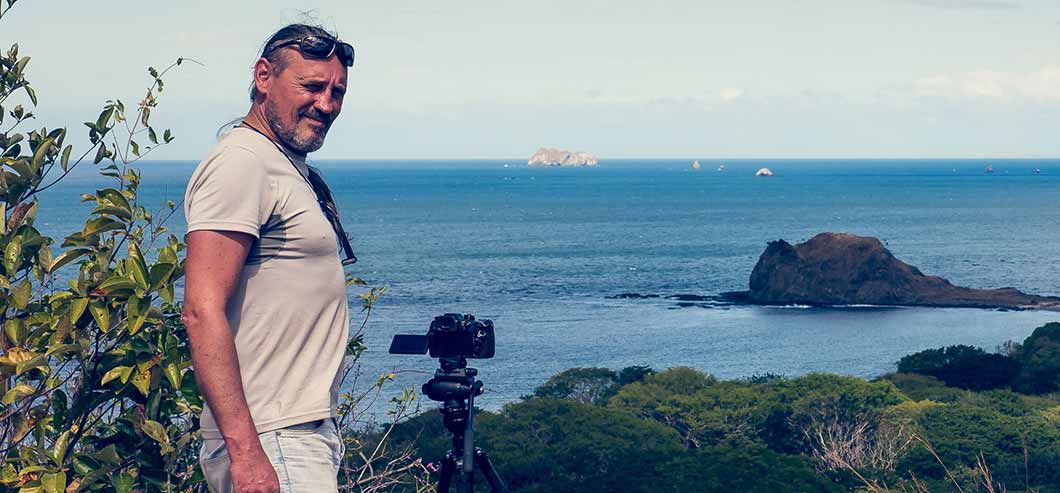 Drawbacks? Who Wants To Talk About?... Nobody Wants... But I Do!
I really would have loved to don't point out the negatives, but these are things you definitely have to know!
So please, do me and you a favour and read carefully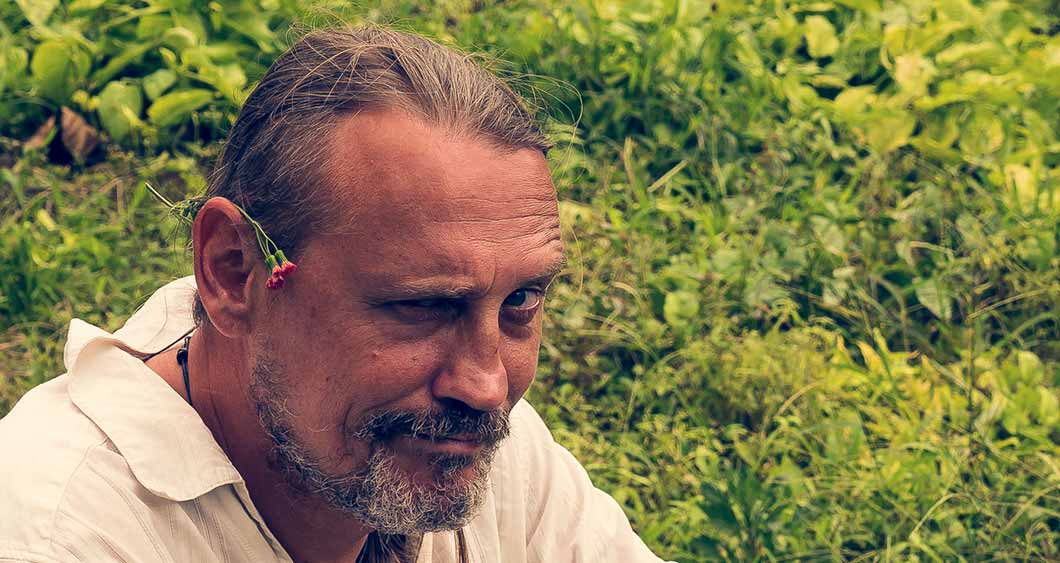 M·O·S·Q·U·I·T·O·S or "That's The Price Of Paradise"
Tiger Mosquitos or Sand Flies. They are like zombies and they are everywhere. They will get you and they will bring you to the verge of a nervous breakdown.
In my wise foresight, I brought 7 bottles of 3 different repellents with me.
"Autan", "No Bite" and "Jungle Formula DEET".
Nothing of it really helped (the Jungle Formula hasn't been too bad) , but we used every single one of it.
After a few days I counted approximately 80 bites on each leg. Each of these bites began to swell, to bleed and later on to fester. You can NOT imagine, how itchy each of these bites have been.
Then, after the first sleepless nights, my girl got hundreds of bites too and at the end of the trip we counted more than 700 bites (!) all over our bodies... and this isn't a joke! We still have some of them, after 2 months without staying in any jungle.
Our legs have been bleeding for 6 weeks for the whole trip. The only aids, which helped a little, have been some antibiotica and Aloe Vera from a pharmacy.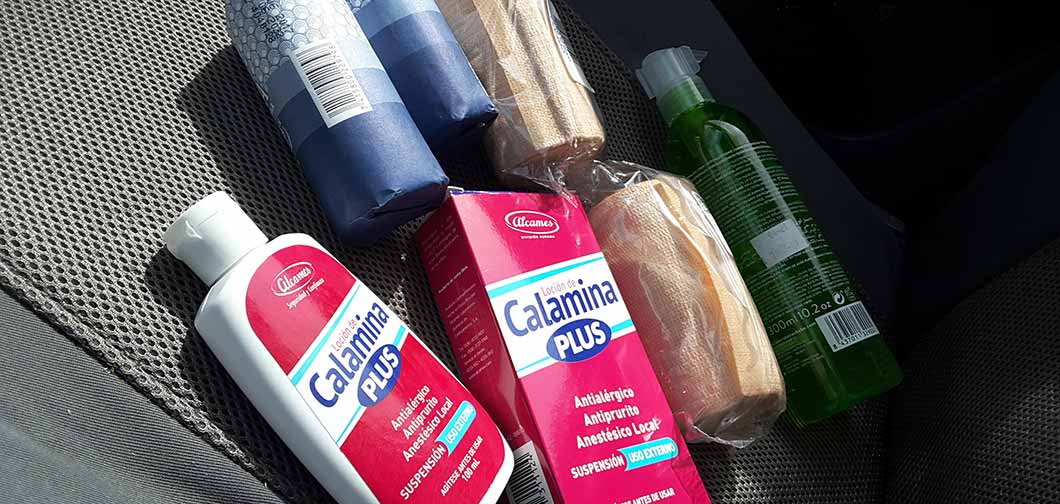 "Calamina Plus" - An Antibiotica With Zinc and "Aloe Vera"
So what you need is "DEET". It's a highly "chemical mace", it's disgusting, it stinks, it smears and important seems to be, that the repellent you're using contains at least 50% deet, the more the better.
Keep in mind, that you always need to cover yourself with the repellent. So take it immediately after waking up, after swimming and before going to sleep.
Also the natives are suffering from these beasts, not everyone is used to them, the guys told me.
I really don't wanna show you the disgusting pictures, so these are after a few days with an emergency bandage
Try To Avoid To Scratch - It's Getting Much Worse!
When it's getting itchy it would be stupid to scratch, but you will... it's normal and you mostly cannot avoid it.
Prepare yourself with some simple things and keep them with you.  There are several things you can do, but the most important is: HEAT!
The enzyms of the secretion of the mosquitos or sand flies will die, when heated up to over 50°C.
So take a spoon and a lighter and heat up the spoon. When it's hot, just press it onto the bite, but be carefull not to burn your skin. You can do so with a cigarette or just the lighter too, as shown in the pictures.
It is getting horrible itchy now and that's a good sign. After you burned the bite and all enzyms are gone, heating the bite again won't be itchy anymore, it just burns.
The lasts "trick" is the most painful and the most itchy one, but it helps you immediately with hundreds of bites and lets you sleep all the night.
Make a campfire and wear a short trousers. When the ember has a good color and temperature, try to stand as close to the campfire as possible.
DO NOT BURN YOU AND DON'T DO IT DRUNK!
Now you need to be strong as Hercules, Superman or Thor. It itches much, much more, than it hurts and you just wanna die! Do not exaggerate, but the enzyms will go by every second.
Make a rest for a few minutes and do so again for as long as it won't itch anymore.
Care For Your Skin!
Once you're done, your skin is heavily stressed.
Now make a mixture of cold "Calamina Plus" and "Aloe Vera" (always try to keep it as cool as possible) and put it onto your skin, don't be stingy! If you have an emergency bandage or an elastic one, wrap it around your extremity.
Now you should be fine for the rest of the night, but always keep in mind:
The enzyms aren't entirely gone. Once you begin to scratch again, some of them are still alive and they will itch again.
Please always be careful!
Sonja and I tested every single method, but we've been really carefull. Some days before we tried this methods, we thought about flying back to germany, but these 'lil things saved the rest of our trip! Please keep in mind, that everything you'll do, is at your own risk!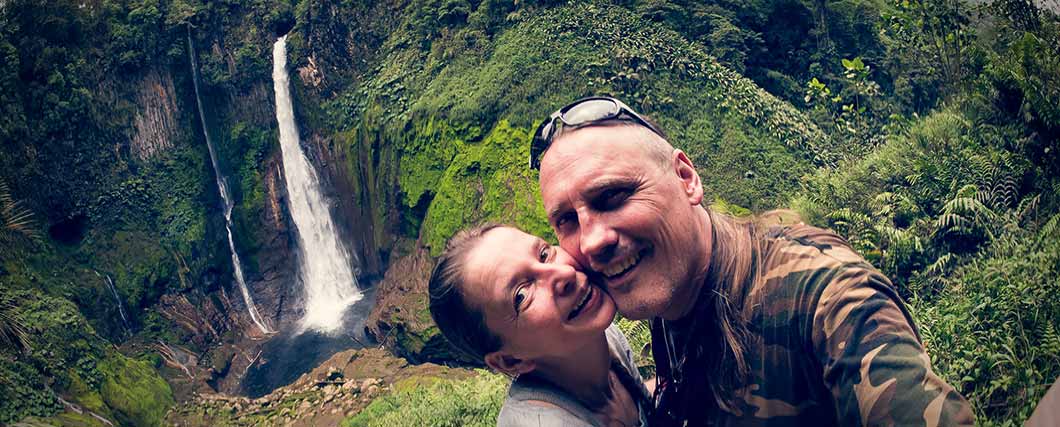 At The "Catarata Del Toro"
The Trip Of Your Lifetime!
We hope that your trip to Costa Rica will be as unforgettable as ours and wish you the trip of your lifetime.
Thorsten & Sonja