JEEP - 2nd STEP - THE ROOFTOP-TENT (V2 - James Baroud)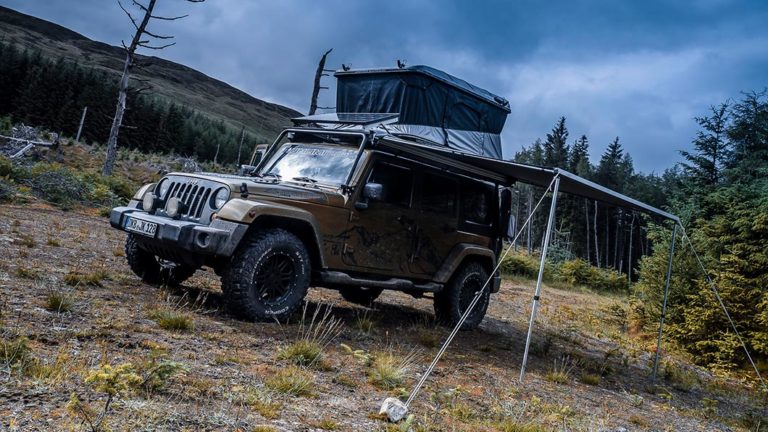 James Barouds First Mission: Scotland
We lived 2 years in our Gordigear RTT and it made a suberb job in warmer regions like Corsica or Croatia. In colder areas like northern europe it had its problems or better - we had our problems with it.
Our final decision to switch to a hardshell tent like the James Baroud Evasion Evolution fell, when we've visited the High Atlas mountains in Morocco. At windy -8°C and a height of about 2800m, the tent got stiffer and stiffer and to the worst, our gas-oven refused his work.
As it was horribly cold and windy up there, we needed much longer to fold the tent and last but not least, the zipper broke, so that we weren't able to close the cover of the RTT for the rest of our trip anymore.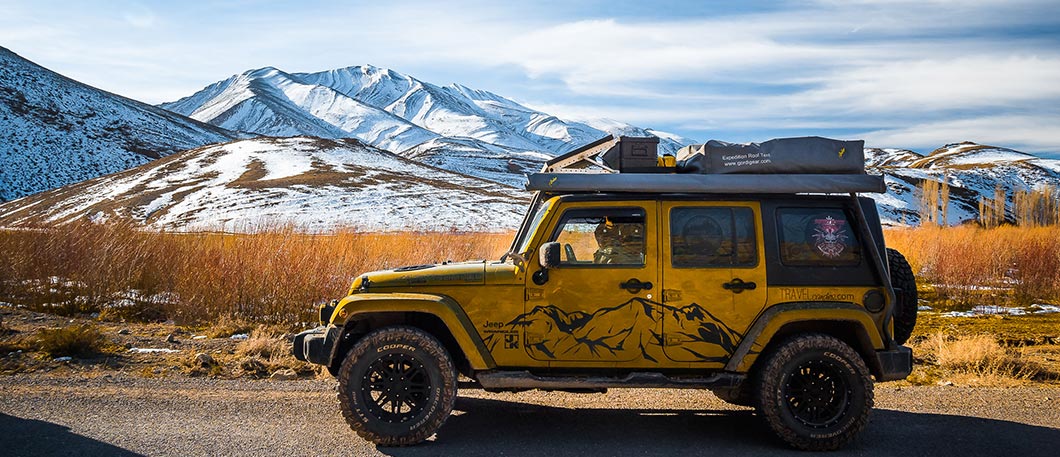 High Atlas Mountains - Gordigear Rooftop Tent
Standard RTT vs. Hardshell
There are a few major technical differences between a standard rooftop-tent and a hardshell.
Whereas a standard tent needs to be unfolded and therefore takes additional space around a car, a hardshell just needs space in height and doesn't overhang your vehicle.
It takes much less time for setting up the hardshell, just open four hinges and the tent pops up itself, without any further (hard) work.
Under perfect circumstances we needed approximately up to 10 minutes for packing up the Gordigear, for the hardshell we just need round about a minute or two.
The building up of the James Baroud is done in under 20 seconds (1 person)
Things will change though, when it rains and when it's windy and/or cold.
Folding a standard tent under such circumstances will take ages and is a pain in the a**. Wet fabric needs to be folded and packed. Stiff zippers are harder to close and you'll get wet all over.
A hardshell though is even in rain packed in just "a few seconds".
One person to the right, one to the left, both are pulling down the hardshell roof, locking the hinges... that's it.
OK, but to be fair: Even here you'll get wet 😉
The Inside Of The James Baroud Evasion Evolution
Inside Out
The base of our James Baroud is about 10cm narrower and 20cm shorter than the one of the Gordigear. On the other side you'll get the same height everywhere and I for myself can sit upright very comfortable.
By having much less fabric, there is less - no - much less moisture in the tent. Under the mattress, it stays dry and the next morning it never drops waterdrops from the ceiling directly onto your face (most annyoing).
Due to condensation you can get about 10cm from the ground, slightly damp walls, but that's very limited and is - especially at colder temperatures - no comparison to the Gordigear.
The shock absorbers of the James Baroud are extremely robust and stiff and ensure a pleasant sleep, although the wind rages outside.
With the Gordgear we always had the feeling, that the tent suddenly takes off sometime.
The next morning you never have to worry about wet fabric, which then needs to be wet packed. In the evening you'll get no damp sheets or a damp mattress.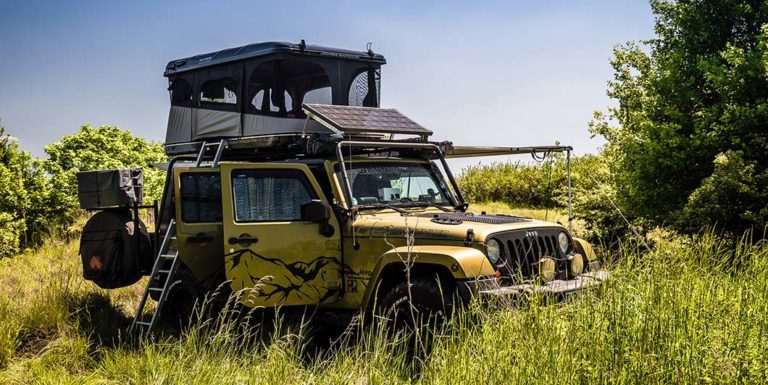 Fresh Air - James Baroud Evasion Evolution
Rooftop Tent Auxiliary Diesel Heater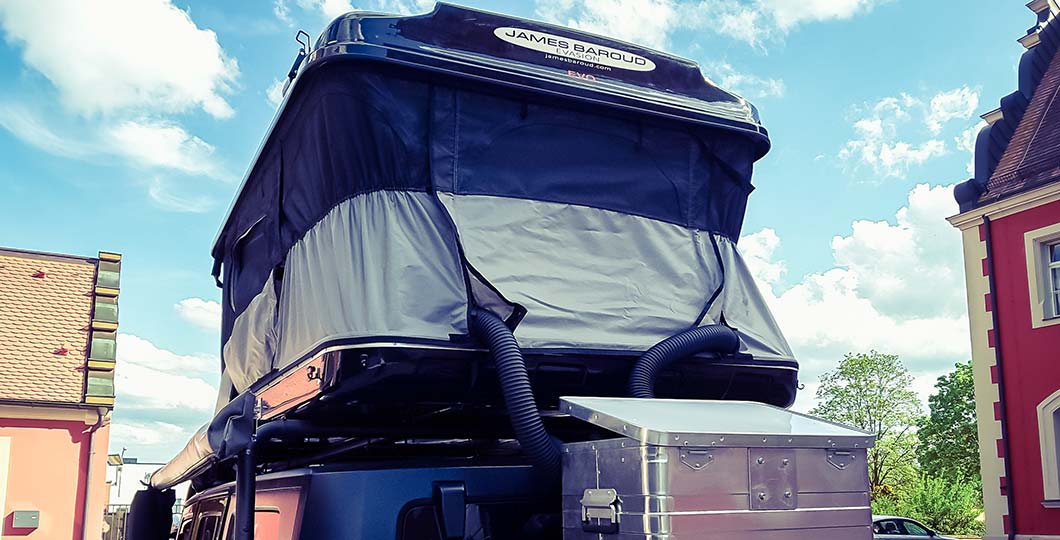 Some Smile At Us, Others Envy Us ... For Our  - Diesel Heater
Some people think that a diesel heater is pure luxury for the rooftop tent nomad, but for us it is important for health reasons and who suffers from back pain and neck pain, knows what I am talking about.
We both just do not want to freeze and don't wanna wake up in the morning with neck and back tension, as well as in the evenings - when it's colder outside - we do not want to slip into our damp and cold sleeping.
So there had to be a solution.
Why not just install a normal heater in an aluminum box and carry warm air through hoses into the tent?
Said and done!
Planar 2D Diesel Heater In An Aluminiumbox
Planar 2D - Russian Works Best!
The implementation was easier said than done, because first I had to develop a carrier for the aluminum box and then think about, how to connect it with the JEEP.
So I built a very simple, but extremely robust carrier with aluminum profiles, on which then the aluminum box should find their place. I attached it to existing points on the tailgate and made use of the spare wheel, by constructing the carrier that way, that it would be additionally supported by the wheel.
For the diesel heater I had two options. A Webasto and a russian quasi-replica, named "Planar 2D". I decided - not only because of the costs - for the Planar and didn't regret the purchase.
The tank, the fuel pump and the heater, I installed in an aluminum box and led the data cable for the remote control into the tent.
I ordered 10m hot air hose (60mm diameter) and separated each 2x2m. These only needs to be pulled out of the tent and connected to the inlets and outlets of the auxiliary heater via quick release. Simple as hell 🙂
Carbon Monoxide Warning System - X-Sense CO03B
Safety First!
The Planar invites you to run it all night. It consumes little diesel and electricity and provides comforting warmth, even with opened windows.
When assembling the auxiliary heating, one must first think about, where to route the exhaust fumes.
If the worst comes to the worst, we've installed a carbon monoxide alarm system in our tent, that will sound the alarm at the least harmful levels of carbon monoxide and other gases.
Please think carefully how to deal with exhaust gases, before spending much money.
Planar 2D Diesel Heater In An Aluminiumbox
Final Conclusion
The diesel heater is certainly not cheap, but was worth every penny.
Why freezing when you can keep it warm in your tent?
We didn't regret the purchase and now always look forward to bad weather,
so we can put the heater into operation 🙂
Many users have asked me questions, as some also consider building a heater themselves.
I answer some of these questions here:
How much does such a system cost?
"For the heater, the aluminum box and the two hoses I've paid about 850 € (additional 200€ for the carrier rig)
How much diesel and electricity does the system use?
"About 200ml/ hr Diesel and about 1-1.5 amps/hr of electricity"
Is it possible to run the heating at night?
"Yes, in any case"
How much noise makes the auxiliary heater?
"In its warm-up phase it clatters properly, after that (and with the additional silencer) it's getting quieter. We didn't hear it anymore at some point"
What does the TÜV say?
Hopefully nothing, but since it belongs to the "secured charge", it shouldn't be a problem.
Is there more condensation in the tent now?
"No... even less, because the air is circulating. Warm air is supplied, used and cold air is removed. Our tent is always very dry"
Does it come with a temperature-sensor?
"Yes, there's one built into the little remote-control"
Is a "Height-Kit" available?
"From what I read, there shall be one in planning or production"
Does the system has enough power for heating up a whole tent?
"It definitely has. We're using it at its lowest level, otherwise it's getting too warm. I guess you'll never need the middle or highest setting" 🙂
Planar 2D Diesel Heater for a James Baroud Rooftop Tent (Silencer Has Been Installed Later)
Still Any Questions?
Of course, I guess 😉
Just ask (below) and if you're planning to build one heater by your own too, I would be pleased, if you'll share some pictures of your setup.
BTW: For those who speak german and wanna know a bit more in depth about the Planar 2D and our setup, I wrote a brand new article on DACHZELTNOMADEN.COM.
Check it out and leave a like 🙂