MERCEDES SPRINTER 311 CDI 4x4, 2.2 Ltr., 110 HP

After returning from our trip through Namibia back to Germany in January 2020, we decided that something needed to be changed.
Not mainly the car , how one might think, rather than our way of life.
In a kind of cloak-and-dagger operation we decided to quit our current lifestyle, as we dreamed for years about permanently being on the road... traveling... enjoying life much more, than it would be possible in Germany.
Said and done. A few days later we quit our flat, sold our beloved JEEP within 48 hours, we basically sold everything, we've had. In February we bought a new car in Johannesburg, as we wanted to travel through Africa for the next couple of years.
And then... came Corona!

Everything sold... Flat, Cars, Furnitures And All Other Belongings. Just A Few Boxes, Which Should Remain At My Mothers House.
Murphys Law
That was one hard punch in our faces. We hadn't anything else left, no jobs, no flat, no car... simply nothing, apart from our will to leave Germany and to travel... no matter what.
'kay? What now?
We couldn't pickup our new car, as we weren't allowed to enter South Africa, but we also couldn't get back to our former life.
The life of millions of people has gotten completely messed up, especially ours.
But giving up wasn't an option for us, so we thought about the idea to buy a car in Germany and to travel to Africa from our home country.
Easier said than done!
For the next 3 months we searched for cars. 10-12 hours a day... every single day. We didn't find one single car, which would be appropriate enough for this trip.
'kay?... and now?
Well... we're flexible enough, so we decided to jump on another train. We changed our plans and decided to travel the silkroad to Mongolia.
But for that we needed not only a rugged 4x4, rather than a reliable and old enough car without eletronics, which also offers more space, as well as enough offroad capabilities.
Also that has been easier said than done.
Either these cars have been horribly expensive, or they were just too old or too new or they didn't come with 4x4... either they've been to big, too heavy or too small or had lots of rust or were just ugly.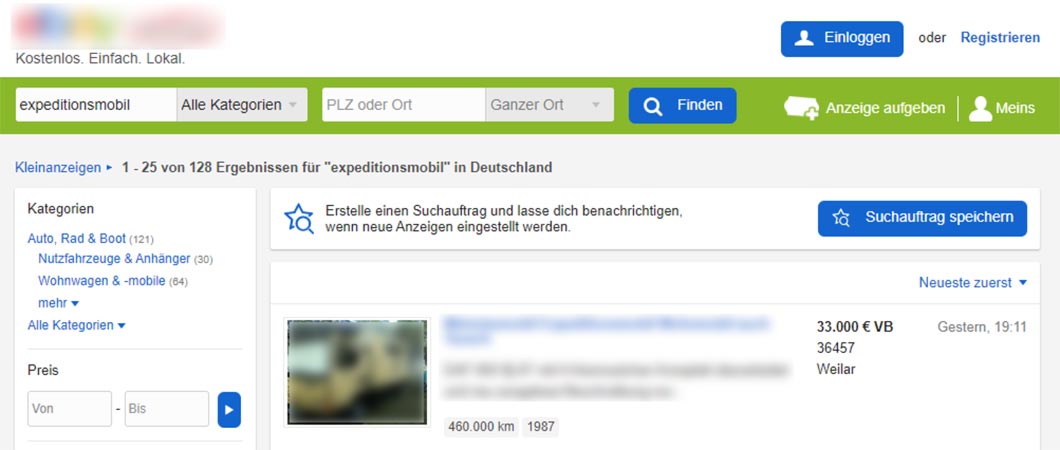 The Search, That Should Never End
We watched hundreds of videos about expedition-cars and we thought about many vehicles, which could do the job, but at the end we were shortly before giving up.
Then... suddenly... a gasp of wind appeared from the north and a lone rider... oh sorry... wrong story 😀
Suddenly a Mercedes Sprinter has been advertised on "EBay-Kleinanzeigen" and I couldn't believe my eyes.
It pretty much looked like new, but was actually 16 years old, came without all this electronic crap, no EGR, no DPF, had a standard key, no electric windows, no rust, but was a 4x4 with rear diff lock, rear heavy duty axle and HD springs and it had an air condition, which was a must have. Only thing which has been missing was a reduction gear box and its engine power was far away from being enough... 110 HP.
But WOW... getting such a car in such a perfect condition for a fair price is usually nearly impossible... so we bought it.
OK, that was the very, very short story about it 😉
Yeah, here we go: Mercedes Sprinter (903/T1N) 311 CDI 4x4

Geological Research Car
The car is from 2004 and has been stored 6 years ago, without being moved in that time. It's a former car of the University of Jena, has been used for geological researches and was build up by a company, which is wellknown for building up ambulances, police crew cars and scientific cars like ours.
Its condition has been nearly perfect. Its underbody has been completey waxed and sealed as also all door foldings etc. The engine looked and sounded like new... no ratteling, no knocking... nothing. The Sprinter just had a few areas with rust, but totally manageable.
The Sprinter also was equipped with a professional 230V System, 2 Diesel heaters, a sink and a simple gas cooker.
So yes, basically the car looked like it could have been 3 years old, so a perfect base for our expedition car, as it was also totally free from unnecessary electronic components, which could lead to a breakdown the sooner or later. The buildup looked a little bit like a Dixi-Toilet, but should be a good base for storage compartments.
Within the next 42 days we were permanently working on the Sprinter, to make it to a real expedition vehicle and in the following articles we will describe, what we needed to do and what we've done to make it fitting our needs.
Here's a first overview of the Sprinters current configuration, accessories and equipment.
. 230V System, secured by a FI-Fuse Box
. 100 AH LifeYPo 2nd-Battery, 80AH Starter
. 2x100 W CIGS-Solar (Renogy), Votronic MPPT Charge Controller
. 110 W CIGS Solar, Renogy PWM Voyager 20A, 26V
. 150 W mobile CIGS-Module (China), Victron MPPT 75/15
. 110 W ext. Solar-Bag, Vechline MPPT Charge Controller and Renogy PWM Charge Controller
. 30 A Battery-Charger
. Victron-, Fraron- and Votronic (BT) monitoring system
. Votronic Charging Booster VCC 1212-30
. 2x CTEK Battery Sense - Bluetooth Monitoring
. 800 W Sinus Inverter
. 500 W Inverter
. 5KW Diesel Heater
. 6x LED Illumination
. Engel MT-45F 45L Compressor Cooling Fridge
. Dometic Sink and 2-Flame Gas Cooker
. 6 KG Gas bottle with 6 EU adapters, 3 KG Arabian Gas Bottle, 2 KG Turkish Gas Bottle
. Camping Gaz cartridge cooker
. Propan/Butan detector"Gascube"
. CO-detector "X-Sense"
. 72 Ltr. Fresh Water, Seaflow Waterpump (13 Ltr/min), WM Aquatec Waterfiltration
. Flow-type heater with shower
. Roof Fan (PWM, multi speed, reversable)
. Glas-Roof Hatch - 80x70cm
. Telefunken 23" SmartTV
. Teufel Boomster XL BT Speaker
. 17" Highend-Workstation Notebook
. 15" Midrange Workstation Notebook
. 13" TRAVELnotebook
. 10 TB harddisk
. Android 10 Car Radio + rear view camera
. Lenovo Navigation Tablet, 10"
. 2x 16cm orthop. 7-Zone-Matrasses (120x200cm sleeping area)
. Porta Potti toilet w/o chemicals
. Fiamma F45s Awning (300x250cm)
. Tinted Glas (2% transmittance)
. 2x Sandboards up to 10T
. 1x Telescope Aluminium Ladder (2,6m)
. T-Max 160 compressor, 10 Bar, 160 Ltr/min.
. Fiskars Shovel, Fiskars Axe
. Complete HD Toolset
. Cupboards, Cabinets etc. 15mm Poplar multiplex, work-top 18mm acacia massive
. Armaflex Isolation 36mm
. 2 fire-extinguishers
. 3M Intrusion inhibiting film (roundly)