JEEP WRANGLER JK UNLIMITED, 2.8 CRD, 177 HP

The very first travels we did, have been by flight. Always annoyed by the fact, that long distance travels are just such a waste of time (I remember our flight to New Zealand which took 30 hours) and on the other hand, that we still didn't see so much of our own continent until this time, that we decided to travel from now on by car.
"Uncle Jack" - Volkswagen T4
Our first own TRAVELmobile has been a 27 year old Volkswagen T4 - called "Uncle Jack" (inspired by the always drunken Captain Jack Sparrow from "Pirates Of The Caribbean").
We spent months of tinkering here, enhancing there and optimizing the "Jack" for our needs until we did our first travels in it.
"Uncle Jack" has been very, very reliable and cheap. We never had a breakdown, not even a flat tyre. What a great car. And if it has been raining: Open the doors, turn the seats and just wait for the good weather to come.

But there was a problem.
We always try to reach places, which are under common circumstances hard to get to. As photographers you always want to shoot photographs, which are different from the ones, you can find around every corner and I remembered our trip through New Zealand, where we had a sturdy 4X4 rental vehicle, which brought us to the most hidden places.

The Mitsubish L200 4x4 With Rooftop Tent
I also remembered our time in South Africa, where we had a 4x4 with a rooftop tent. we been able to drive (or better crouch) the Sani-Pass and could access hidden beaches and other "off the beaten track" roads. We always thought back to this time, when we been standing directly at the beach, unfolding the rooftop tent and watching whales, dolphins and sunrises from within the car.
THAT has been the pure freedom and was totally romantic... (yes... I'm a totally romantic, indeed 😀 )

South Africa, Sani Trail to the highest cafe in SA (Lesotho), 2006
When traveled to Corsica, I permanently did see offroaders... on campsites... in the wild... at the beaches. Some of those tracks we were able to drive with "Jack", but most of them just not. On Corsica many places are secured by barriers which are just 2,50m high and Uncle Jack was slightly too high, saying 2.5cm. What a mess!
Anyway we had great times in Uncle Jack, no matter what, but I realised that it's not the right car for us and I said to Sonja:"Honey... believe me... it's a sign... all those offroaders around us,  and me permanently thinking back to our SA trip.
We need another car!"

With the "Bulli" on Corse, 2015
Said And Done - The JEEP WRANGLER
After doing many researches of which car to buy, I mulled over Landrover, Toyota and JEEP Wrangler. I didn't like the Landy so much and after watching comparisons between Landy and the JEEP, my decision fell on the Wrangler (... and this decision has been - more or less - a good one, but later more).
I really don't know, what fascinated me on the JEEP, but that has been the reason for ignoring any else car.
OK... JEEP...well then... which one?... where to get?... how much is it?... how much we furthermore have to invest? Questions over questions, but one time we did see a "chrome-porn-styled-bling-bling-JEEP Wrangler" for a proper price at one of our internet vehicle exchanges (AutoScout24). The car was from an insurance salesman, so never has been driven offroad and the car has been "old enough" to probably be reliable (I HATE the newer cars, full of electronic nonsense which can fail, so the JEEP should come with at least 100.000 KM and no (or not so) much electronic stuff).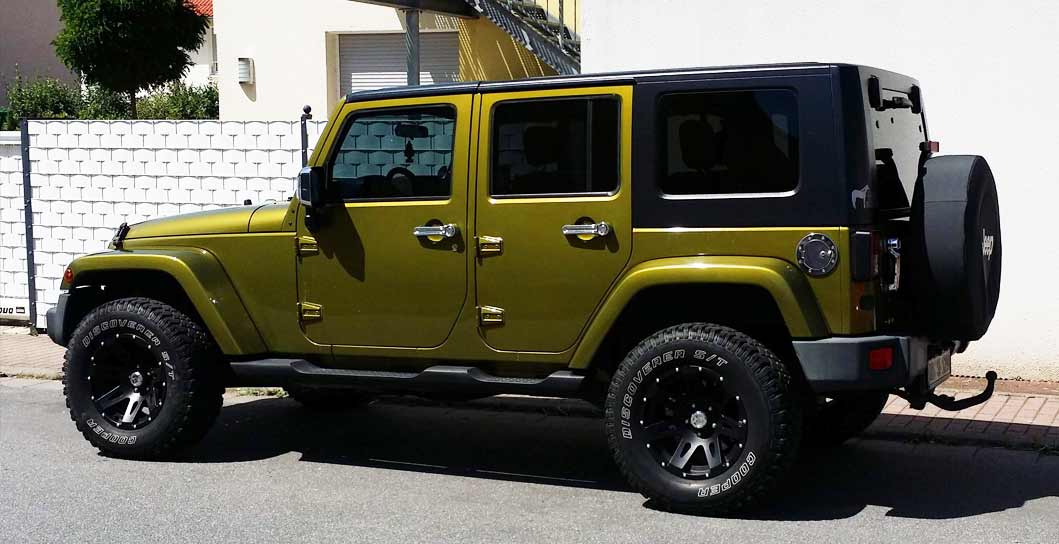 Lots of "bling-bling-chrome-stuff"
Our new "Zombie-Apocalypse-Vehicle"
We bought it for € 19.000, after the owner let change the toothed-belt and let made a full service.
Without any experience in either "hardcore-offroading" or all the technical demands, we thought about on how to optimize and rebuild the car and we already knew that all that would become great...and it did 🙂
As with the "Bulli aka T4", we spent lots of time for building a proper "Zombie-Apocalypse-Vehicle". I visualized on the computer, how the JEEP should look like, what it should come with and what enhancements we still needed for surviving in the wild, being as much as possible self-sustaining.

3D Computer Visualization of the interior fittings and equipment, 2015
Fully Equipped
By now the JEEP Wrangler is equipped with GPS, radio transceivers, rooftop tent, 360W Solar-System and 225 Amps of dual battery power, flowing water, gas system, a shower, a small kitchen and even a (mobile) toilet (our so called "Emergency-Pipi-Kacka-System" 😀 )
Apart from the fact, that it's not a light-weight anymore and that we spent further thousands of bucks (don't ask 😉 ), it's an absolutely drivable car onroad, but even better offroad.
But one target however, I didn't reach: that it'll look like unobtrusive. I wanted a car, inconspicuous enough to don't get stolen or broken.
FAILED 😀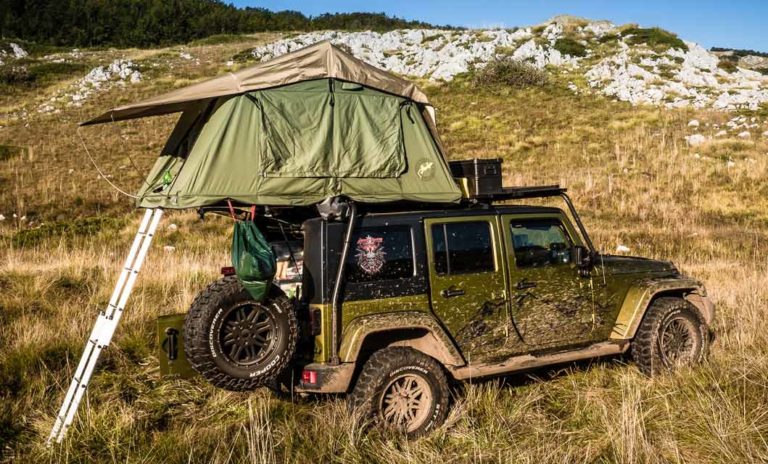 OK, it never has been stolen or broken (until now), but I cannot count anymore, how many people have been standing around and staring at the car. Some of them even wanted to buy it and made me offers.
A reason more for us, to be more in the wild and not so much in the cities.
And this is exactly, what the JEEP is made for.
On the next pages, ya'll get a short overview of what we've done with that metal-brick...