JEEP - 1st STEP - THE ROOFRACK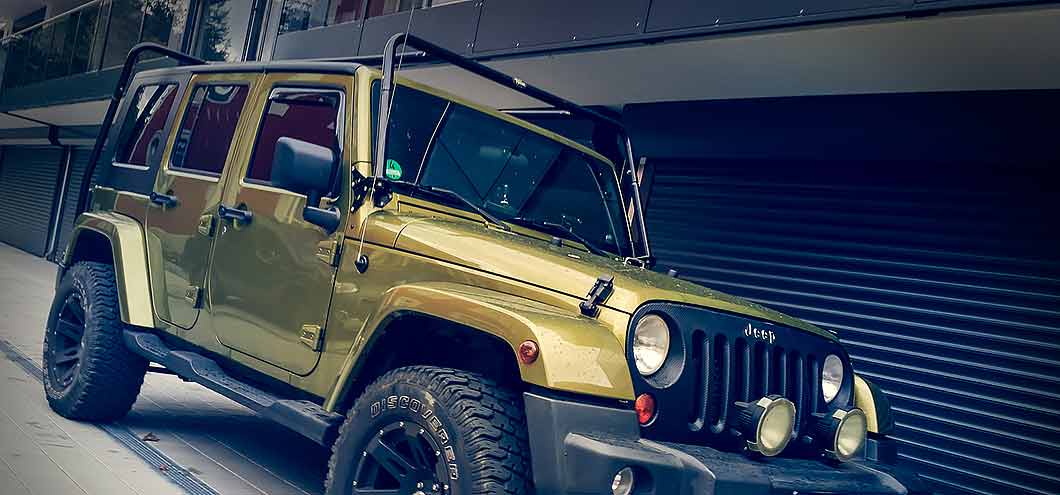 Wrangler After Roofrack Installation
When thinking about traveling with a JEEP Wrangler, you'll need to keep in mind, that the JEEP has much less space than i.e. a Landrover Defender.
So if you plan for instance to sleep inside the car, you will put as much as possible of your stuff anywhere else, but for us it has been clear in the beginning, that we wanted to get a rooftop tent, so there was no way out... we needed a roofrack.
Too Heavy, Too Expensive, Too Unstable
In the Offroad-market there are a lot of roofrack providers. Either those fancy roofracks are super heavy, their load is too small, they're expensive as hell or they force you to drill additional holes in the cage.
Weight is a huge problem with a Wrangler, so it had to be a light rack, but it should also be able to carry at least a tent and two persons. This fact already limits the selection.
I just wasn't willing to spend a few thousand bucks for a simple metal-frame, therefore it had to be a lil' cheaper (has been getting easier and easier to find a "proper" cage now 🙂 ).
Drilling additional holes in the Wrangler cage wasn't an option. I didn't want to create a rated break point, but the worst thing would be in this case, that you need to drill also holes through the hardtop... no way!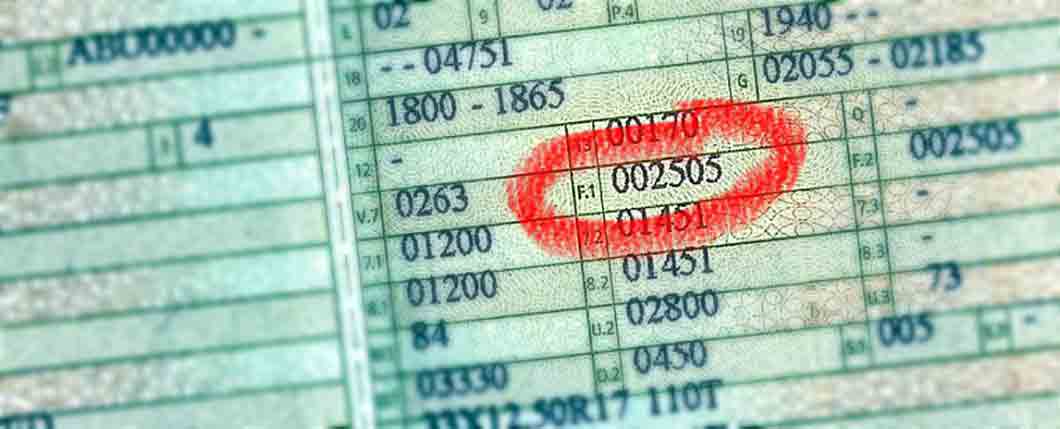 The "Kargo Master - Congo Cage"
At the time when I needed such a rack, there just have been a few racks which would fit my needs.
One of them was the "Kargo Master - Congo Cage" from Quadratec
. It looked sturdy enough
. Its load is about 500 lbs (226 KG)
. There was no additional drilling needed
. It is stowable, without disassembling
. It was way cheaper than the other solutions, but I needed to order it in the US.
So I had to pay additional shipping fees and taxes, but hey...
at the end it not even costs a third of one of the other premium racks...check!...ordered!
It took approx. 3 weeks or so for the shipping and then a huge package arrived and I been totally excited, how it looks, feels and how good the quality is.
The cage looked so simple, that I didn't need a manual, except for the part, where the rack had to be mounted on the rear bumper (also without drilling a hole, which is great)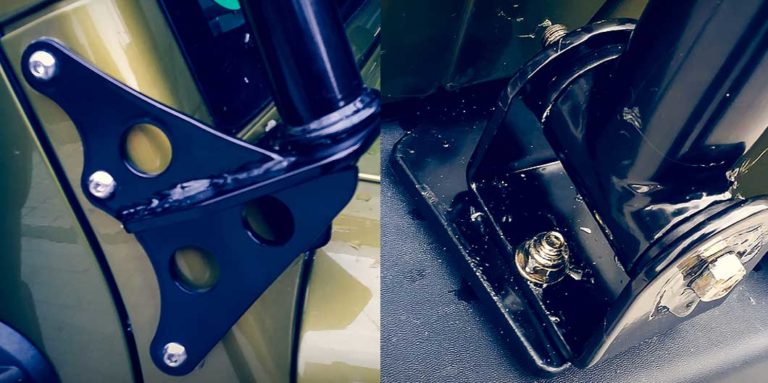 Connection To The JEEP...that's it
The "Marriage With The JEEP"
The assembly took an hour or so but the marriage with the JEEP has been a bit of a pain in the ass, because I was alone and no one around, who could have helped me.
Glad me, that in the very last minutes my neighbour arrived who gave me a hand.
So the whole process until the rack has been installed, took approx. 5 hours.
As a mechanic I already knew, that metal corrodes the sooner or later, even if it has been painted already, so I thought it might be a good idea to additionally seal and paint all the stuff.
I ordered the "swiss army knife" of the robust paints - Hammerite, black, matte and also a silicon-kind seal, which I took for sealing of every connection in the frame.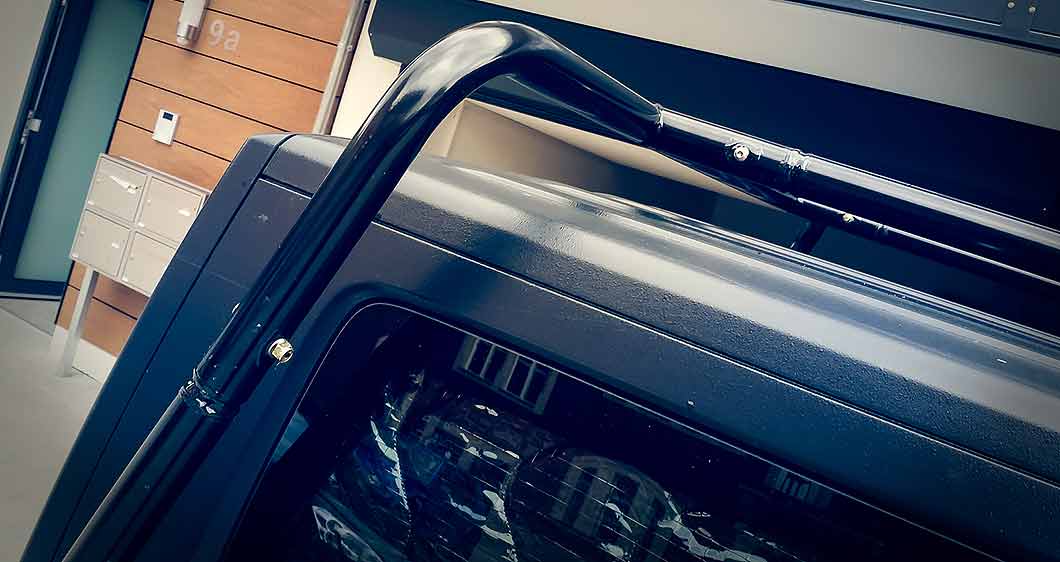 When seeing it 2.5 years later, I can say, that I really did a good job. There's still no corrosion and the varnish is sturdy as hell. (I need to say that the JEEP permantly parks outside - all the year, because my garage is just too small).
The cage itself is awesome. It never touches the hardtop or other parts of the JEEP, even if it swings a bit. Not so with other roofracks, where you need spacers for keeping the distance to the hardtop.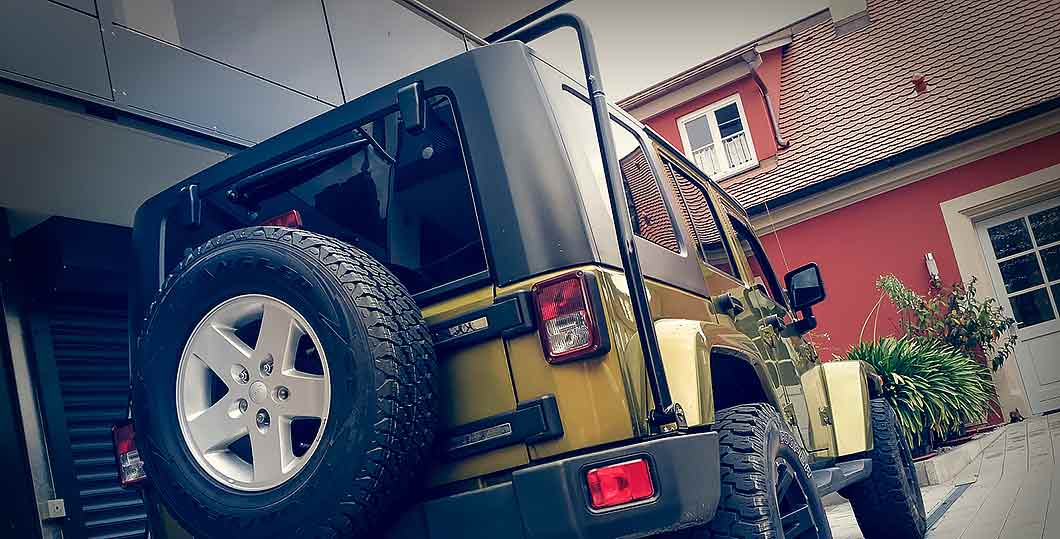 From The Back...Good Thing Is: The Rack Is Stowable (which we never use 😀 )
Installing the Congo Cage was just the easy beginning of the story and the more I worked on it the more ideas came in my mind...and sometimes I wished, I never would have bought the car.
What about you guys? Anybody out there, who has experienced the same problems?
Everyhting I do is mostly connected with weight optimization.
So read further, about what I'm talking about.