For non US residents it might sound difficult to get married in Las Vegas, but it actually isn't.
In this HOW-TO article I'll describe all the steps, which you'll need to go through.
There are several ways to get married in the "City Of Lights". Whether you wanna get married in a helicopter over the Grand Canyon or in a small and romantic chapel in Vegas itself.
The possibilites are endless. Some chapels will guide you through the process, as well as agencies offer their services and take you by their hand.
The prices can differ a lot and weddings can cost up to thousands of dollars, it's just up to you, how and where you wanna get married.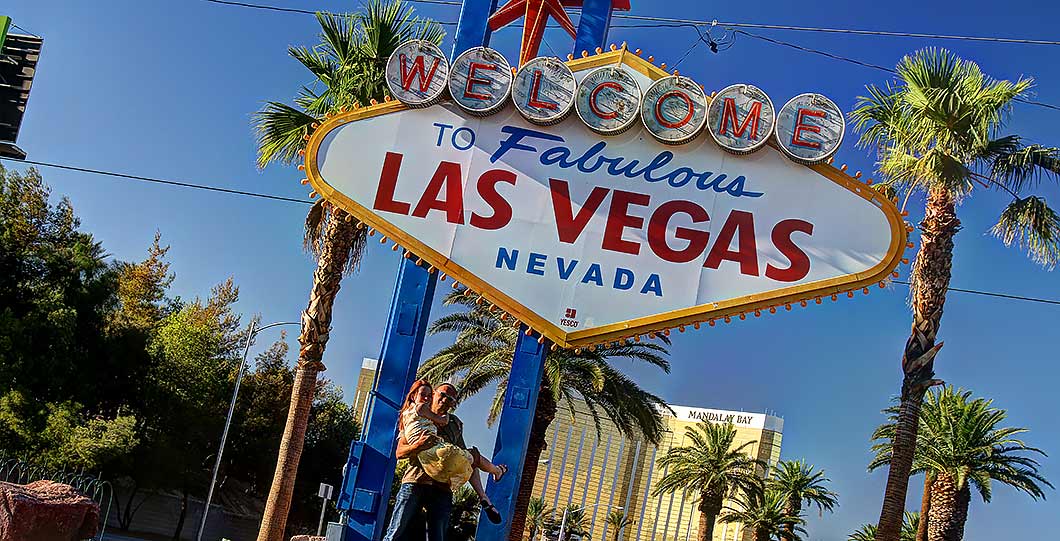 I decided for a small wedding, with no people, but just a witness. One reason has been, that Sonja didn't know anything of my plans and it would might have been strange, if we would have traveled with dozens of relatives 😉
She got to know about my plans 3 days before the marriage, when I made her my proposal at the Grand Canyon 🙂
Well... OK, what steps you need to go through?
At first you'll need a "Marriage License".
This license you can get here:
The Clark County Marriage License Bureau
200 South Third Street
Las Vegas , Nevada 89101
Telephone: 001-702-455-4416
Opening Hours:
Monday to Sunday 08:00 bis 24:00 o'clock
No appointment necessary
You can apply for the license either directly at the office, or you do it (online) with a so called pre-application (which make things easier, when you're finally at the office)
I made the pre-application online and they charged me $45.00 (regular price is $77).
Now you'll get a reference number.
With this reference number and the following documents, you'll need to visit the
Clark County Marriage License Bureau in Las Vegas:
. Your valid passports
. 1 Witness
. Divorce decree (if applicable)
. Widow certificate (if applicable)
. Marriage banns (not needed)
Please take care, that you put in your data as it is in the passport! When the data in your license differs to the ones in your passport, it can be, that your marriage won't be accpeted in your home country.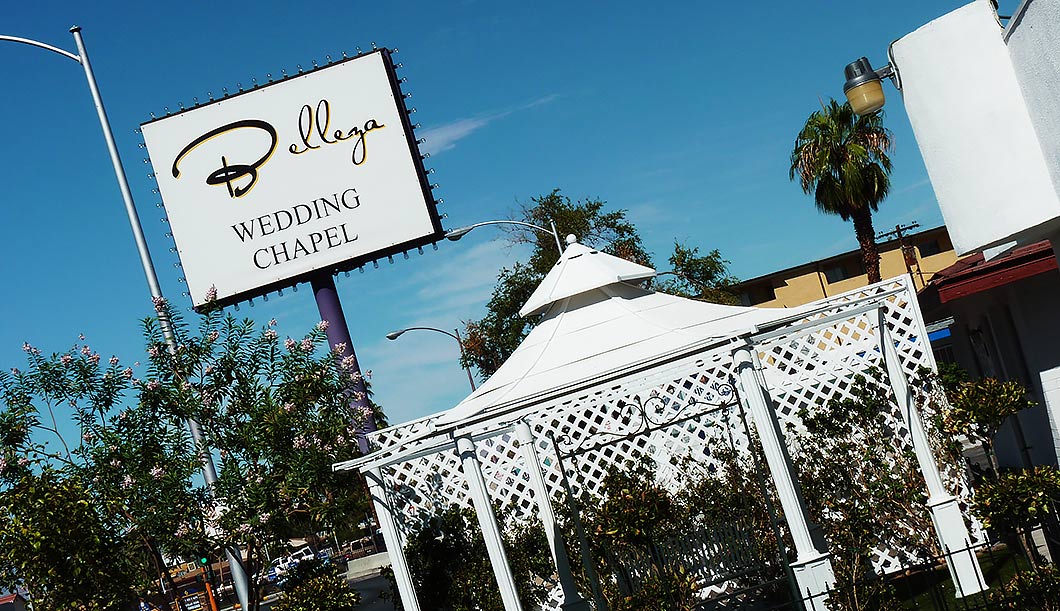 Belleza Wedding Chapel, Paradise Road, Las Vegas
Commissioner of Civil Marriages Or A Chapel?
But before your're getting your certificate, you'll need a chapel of course, which performs the marriage process or a Commissioner of Civil Marriages.
I decided to go with the Belleza Wedding Chapel in the Paradise Road in Las Vegas (which is finally closed) . It's a very small chapel, but the service is great and all the employees are very nice and helpfull (everything can be ordered online in advance)
I ordered a so called "Just The Two Of Us" Package, which included:
. Ceremony in Belleza Chapel
. Custom Wedding Music
. Lovely Silk Bouquet for Bride to use
. Matching Silk Boutonniere for Groom to use
. Keepsake Tapered Unity Candle Ceremony
. Ceremony candlelight Down Aisle
. Professional Custom DVD of your Ceremony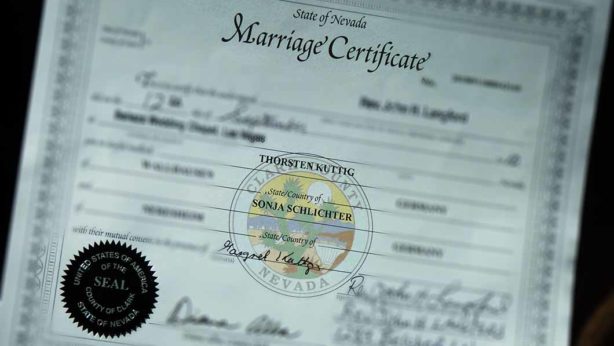 Marriage Certificate - Wedding In Las Vegas
When you're finally in Las Vegas, you'll visit the Clark County Marriage License Bureau for your marriage license (which takes 15-20min).
Then you'll visit your chapel and the guys will guide you through the whole process.
I supplied them with an audio cd and brought a second camera, which I placed inside the small wedding area, close to the altar... no problem!
The wedding itself is performed by a reverand and takes approx. 20 mins or so.
The reverand will speak the following wedding promise, which you have to repeast and answer with "YES"
"I, (your name) take thee, (your partners name), to be my wedded wife.
To have and to hold from this day forward, for better for worse, for richer for poorer, in sickness and in health, to love and to cherish, till death do us part, and thereto I plight thee my troth."

Congratulations: YOU ARE MARRIED 🙂
Legalize Your Marriage In Your Country
Now, with all the document stuff, you will need a so called "certified copy of the marriage certificate" and a "Apostille". These certified documents are necessary for the acceptance of your marriage inside your country.
The certified copy of the marriage certificate ($10) and the Apostille ($20) can be ordered here:
Clark County Recorder
500 S. Grand Central Parkway, P.O. Box 551510
Las Vegas, Nevada 89155
It'll take a few weeks until you get the documents, so please be patient 🙂
Once you received them, grab the following documents and visit your registry office
(in Germany it's the "Standesamt"):
. Certified copy of the marriage license
. Certified copy of the marriage certificate
. Apostille from the Nevada Secretary of State
The registrar now will do anything necessary, which makes your marriage legal in your home country 🙂
I would love to hear, who of you got married in Las Vegas, too 🙂