KENYA, 2009 - Our 3 Week Survival Safari In A Toyota Landcruiser
In 2009 we already made some trips. South Africa in 2006 has been fantastic and we would love to fly back to the tip of Africa immediately. Madeira - simply gorgeous! We circled around the island twice, but still didn't have enough of it. In 2009, after all the great experiences before, we decided to visit Kenya to get a closer look at nature and people. Decisive was Thorsten's idea to take his three boys with us. He wanted to show them something more of the world. It was already four years ago, that they travelled to New Zealand in 2005 and they all simply loved it there. We wanted to show to the guys, that not everyone has an easy life as we all have. The need to speak a bit of English on vacation and to note, that this school subject is not pointless at all, has been the second reason. And finally, everyone is enthusiastic about his great Kenya trip - so why not?!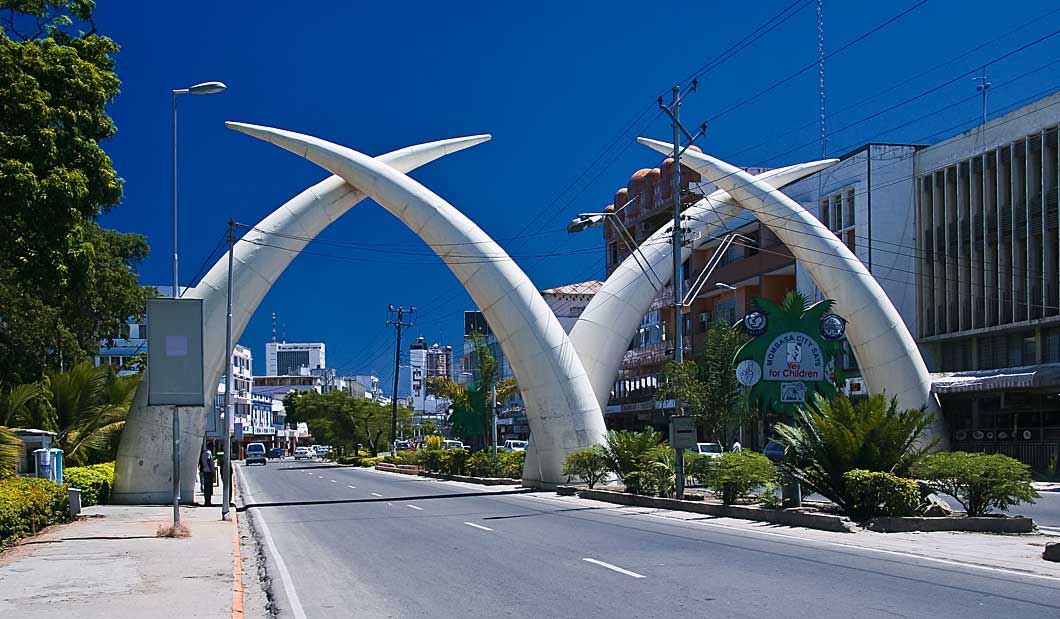 Kenya - Capital City Mombasa
Toyota Landcruiser And George
Quickly the flights were booked for us 5. Three weeks in the Republic of Kenya - in December - over christmas, with lots of christmas gifts in our baggage.
We booked a large 8 seated Toyota Landcruiser (they called it "JEEP", LOL) with air conditioning and fridge – it costed a packet! Thorsten assured himself twice, that the vehicle has been equipped with sufficient power connections, since we have to charge many batteries, as on every trip.
Because of the uncertain road conditions and with the intention, that Thorsten doesn't have to drive all the time, we booked a driver for one euro per day. How decadent!  Later we learned from George, our driver, that this was a top income for him. Win-Win.
The time until departure spun away. Thorsten planned the round trip along the "Must and Want Sees". National Parks, waterfalls, the Masaai Mara, Rift Valley...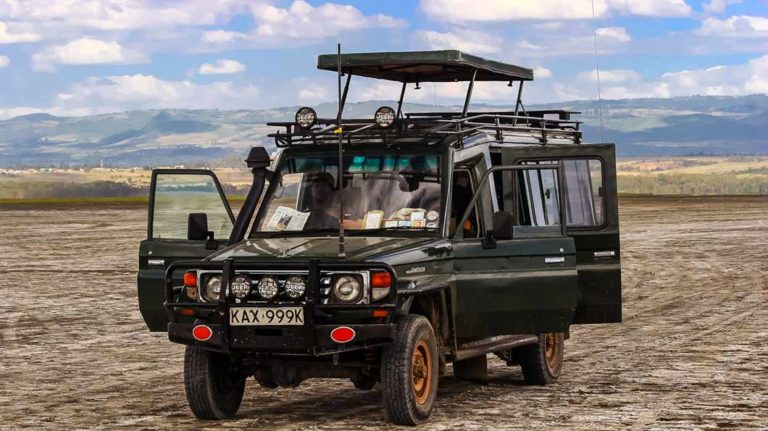 Kenya - With The Landscruiser At Lake Nakuru
A few vaccinations for the guys here, a few flea market sales for the guys there, to participate in the cost. We decided to bring a few christmas gifts to the children of Kenya and gathered everything we thought could fit. As the children in South Africa were madly happy about ball pens, we took great packs of pens from one of our former clients with us. The three guys sorted out their toys and packed little cars and stuffed animals. Soon it was December and we started.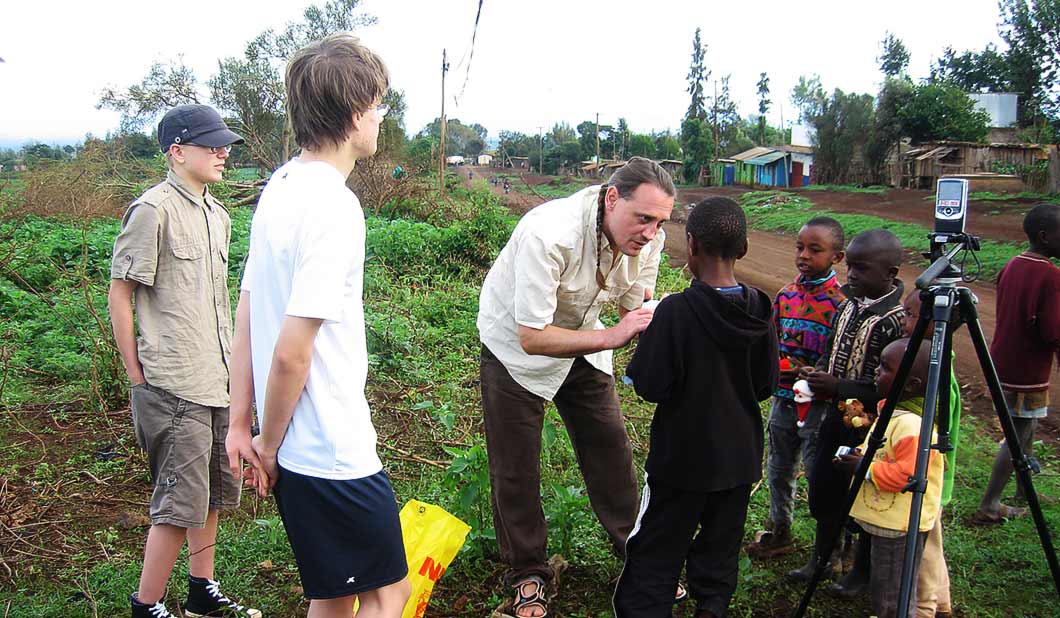 Kenya - Gifts For The Kids
Picking Up Our Car And Getting On Road
At the arrival in Mombasa we bounced against a large, hot, tropical heat wall. "The stupid Germans arrive with their winter cloaks near the equator in December" 😀  The air at the airport had apparently changed its aggregate condition and was literally standing right in front of the exit door of the airport. So the whole crew had to change clothes first.
Our ordered vehicle has been delivered to the airport. The transfer and cash payment took place on the parking ground. It made us feel quite queasy. Refrigerator - check. Electrical connections - check. Ahh-OK! ... "Air condition?" For this "air-conditioning" the vehicle had a fold-up roof top. Well, that'll go off all right…
We got to know our driver George and started in our adventure full of joy. That all this was going to be a bigger adventure than we could have guessed at this moment, should turn out faster than we thought 😉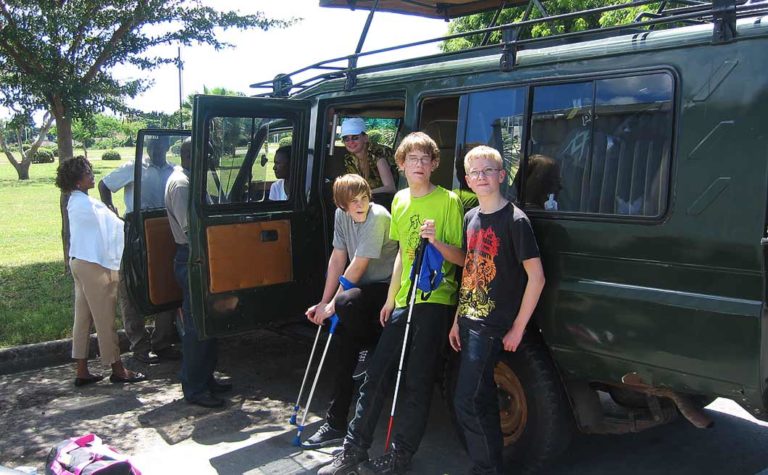 Kenya - Gifts For The Kids
Dealing With The Mafia?
First we went to the car rental agency. Partly we stored the Christmas gifts there. At the end of the trip we're crossing Mombasa again, to pick up all the bags, we left at the agency. Just a few yards away, George asked us whether we need to change money, before we'll go into the wilderness and before leaving the city. Outside the city, it would become quite difficult and in the city he would have his connections, so we "can change to a good course", he said. Um, yes. Then we should do so. George drove through the narrow streets and small lanes, until he parked in front of a backyard.
With the kids and all the valuables in the car  - how to proceed now? We decided, that Thorsten should stays in the car and I'll go to change the money with George. It shall be enough money for the next ten days. It felt even more queasy, than the handing over on the parking ground at the airport!
In a dark back room, three men were sitting, flashing their cash. I thought they were professional money changers, but they looked like in a Mafia-movie 😉 .
George discussed the course for the change, finally nodded and somehow everything was agreed. Has been that simple! I had no idea, whether it has been a good exchange rate, but George seemed to be very satisfied and we had Kenyan shilling now.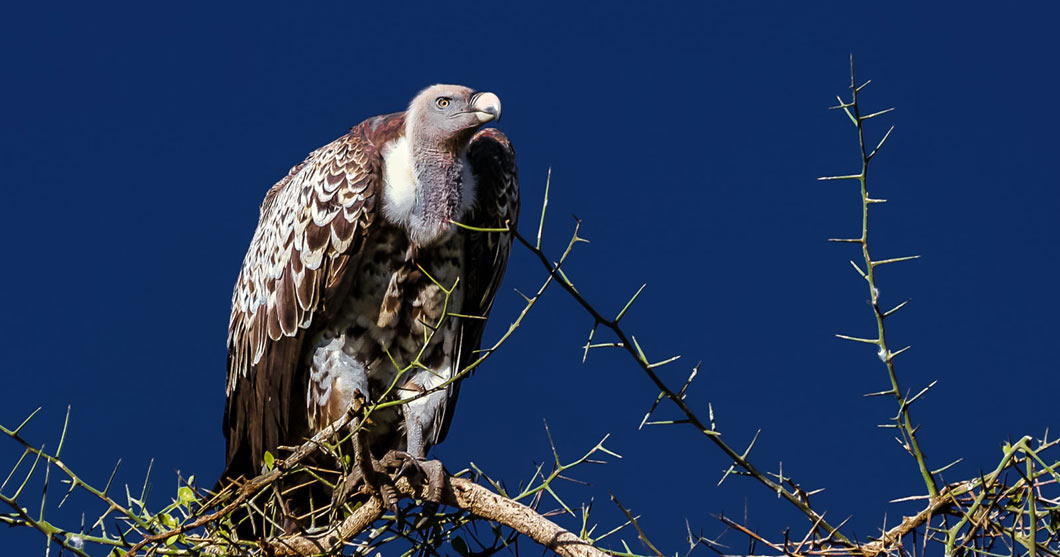 Huge Vulture In Massai Mara - Kenya
"Diggin' In The Dirt"
We all were still a bit groggy from the long flight and the new tropical climate. But finally we left the city and drove out into pure nature. The streets changed to ways and the ways changed to muddy pathes. The darkness came quite quickly and – whoosh – we got stuck in the mud. In the middle of nowhere. Georges attempts to get the car out of the mud were without success. Third time this day, that the queasy feeling appeared. Suddenly 5-6 men surrounded the car... we didn't know, where they've come from, but anway, we've been glad to get a bit of help. George told us, that they just came to help us out! After some more tries and with the help of all these friendly hands, we finally carried on to our first campsite.
The very next day we started our safari in the first National Park. VOI. Here I catched this dreamlike photo, that later on embellished my desktop background for years.
Trees in the typical kenyas shape, offered their shade to all the zebras, elephants and the long-necked giraffes. It was a fantastic day with lots of wonderful views and fantastic sceneries.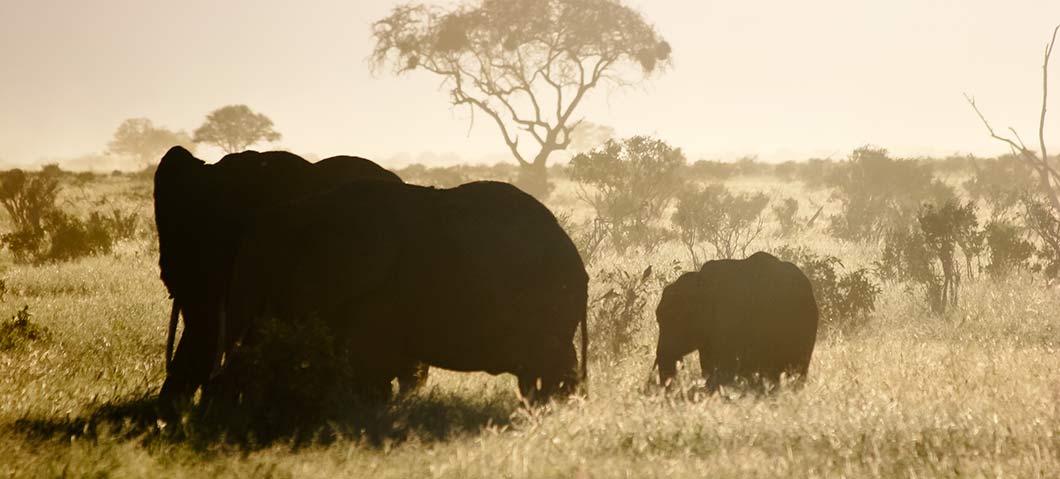 Kenya - Elephants In The Tsavo Nationalpark
Food Intoxication...1...2...3
We finished the day with dinner at the buffet of the National Park. Curious as always, we had to try all the typical kenyan foods – unfortunately that was a big mistake, as we found out shortly after.
Possibly the meat was old, deteriorated, or not well-done. Thorsten got a really bad food intoxication. With 42° in the shadow he layed down in his sleeping bag at lake Naivasha with high fever, shivers, headache and muscle pain.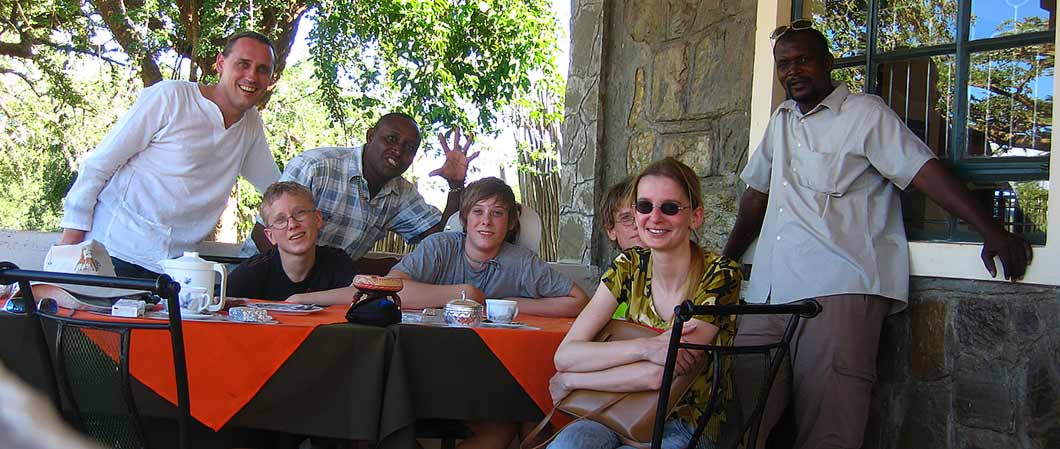 Kenya - Getting Ill In A Restaurant
Everything he ate, left his body shortly after. He fed himself hardly with just boiled rice for round about one week. Obviously he wasn't the only person in Kenya with these problems, as the hygiene of each sanitary has been far, far, far away from even being borderline. In the next days and weeks we disinfected round about 30 toilets to make them usable.
Necessity Is The Mother Of Invention - In Kenya, Hygiene Is Far Away From Being Acceptable
George cooked some Ugali (maize porridge) and Omena (very salty small fishes) for us, what caused, that now also two of the boys got diarrhoea. Fortunately without fever and shivers.
We found out, that our booked refrigerator was just a simple cooling box. It died in the very first days of the trip. So no cold drinks and no inventories, that needed to be cooled for the rest of the journey.
As Thorstens recovery gone really slow, we were quite sure, that he needed to see a doctor. George finally found an english doc near lake Naivasha, who was a former ship's doctor. We went there and with the medicine he handed out, it went slowly but steady uphill.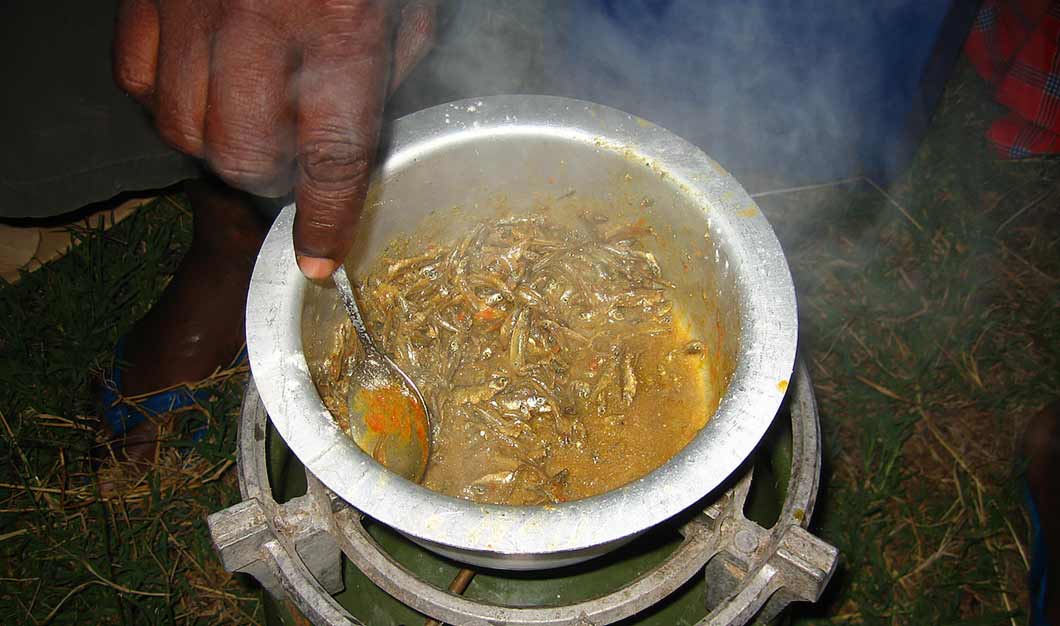 Ugaly And Omena - A Special Kenyan Food - DO NOT TASTE IT 😀
We continued our trip alongside the planned route. Somewhat sheepishly George admitted, that the roof-top may only be opened inside the National Parks... anywhere else it's forbidden. Therefore outside these parks we had absolutely no climatisation and you can imagine… 6 people in a car with more that 40°C outside. No good thing :/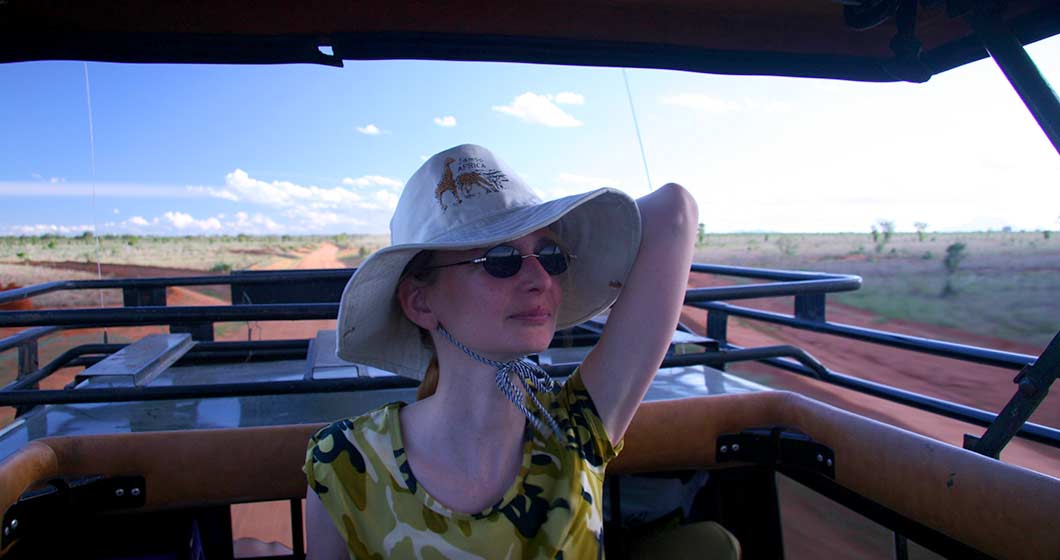 Our "Air-Condition" - Kenya - Tsavo National Park
Again and again we've stopped in small villages and presented our little gifts to the children. George told us about his life and the life in Kenya in general. He said that it's very unusual, to book him for a roundtrip through the whole country. His usual clients go on safari for 1-2 days and live in luxury lodges for the rest of their holidays. We, on the contrary, spent the whole time on safari, were on campsites and went to cheap hotels only, when no camping was available. We wanted to be as close to the country as possible.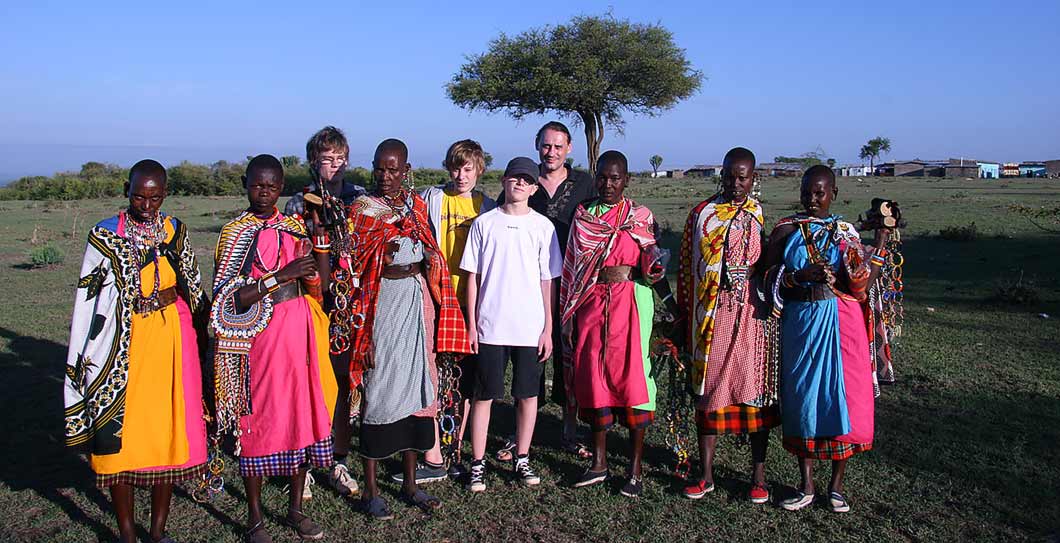 Together With The Massai In Kenya
Massai Mara, Rift Valley And The Kilimanjaro
We went to see Massai Mara, drove through Rift Valley and hiked the Hells Gate. We saw the Kilimanjaro and crossed the equator. Pictures and impressions of the journey will stay in our memory forever.
The highlight of our tour through the lake Nakuro National Park was, to observe a big lion-family, chilling on a big tree and waiting for the night to come. What an amazing spectacle of nature.
Barely 100 meters away from that tree, George stopped at a small green field. This small place was supposed to be our campground for the night.  Except of two Dixi toilets, nothing else gave any hint on this. No fence, no lantern. Somehow sceptical we asked, whether this place is really save – thinking about the lion-tree again. "No problem" George said. And he should know…

Lions Very Close To Our Camp - Kenya
"And Soon The Darkness"
As it got dark, we were sitting around our camp fire for a while. No other campers were around. George went to sleep in his tent and the boys decided to sleep inside the car, as the proximity to the lions felt not very comfortable to them. We considered sleeping in the car, too. But then we thought, that George would not take the tent, if he had doubts. Tired as we were, we felt asleep immeditely.
Some time in the middle of the night, Thorsten got awake. Something pushed against his head from the outside of the tent. Although I had a very deep sleep, Thorsten tried to wake me up: "Sonja, there is something outside the tent…" I turned around unimpressed and continued sleeping… Thorsten opened the zipper of the tent, flashed his torch and found himself sourrounded by luminous pairs of eyes. Everywhere near and far the tent, buffaloes were grazing. He estimated around 30-50 of them. Additional he heared the wild animals growling in the distance – lions and hyenas. He combined: "lions are hungry…buffaloes being hunted…herd of buffaloes would try to escape and runs…tent is in their escape route…"  Well, he didn't sleep much more that night 😀
The next morning, Thorsten told George, what happened the last night.
George had to grin and told us, that a few years earlier, a family of five died here.
"OK, George, nice that you didn't tell us before…"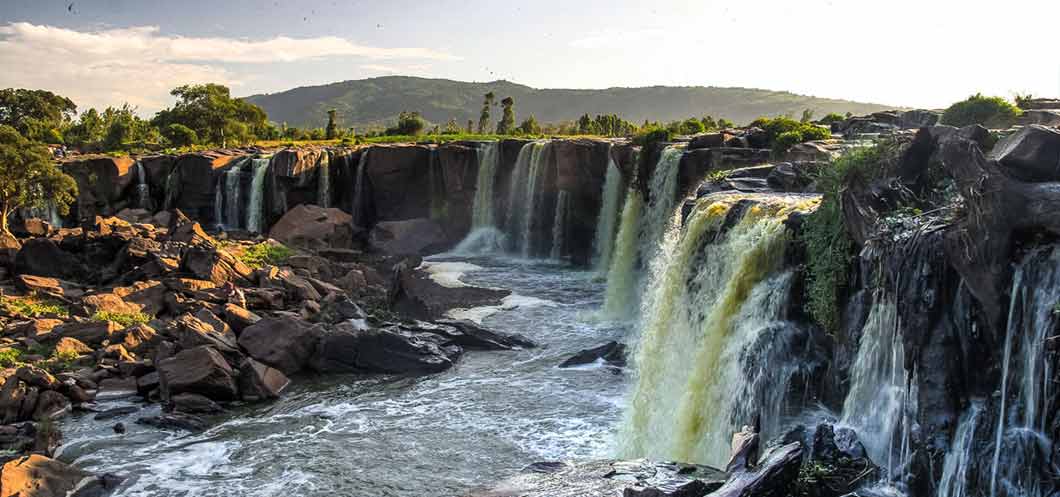 The Very First Relaxation Day - Tiwi Beach
Our last days in Kenya, we've spent on the beautiful Tiwi-beach, just chilling and relaxing. The locals sold food and drinks, as well as some services to the campers. Thorsten allowed himself a massage on the beach, and the kids climbed the palms to show the coconut pickers, that they were able to pick the coconuts too.
On the way to the beach, we picked up the stored bags with the rest of the presents. These were mainly clothes. We decided to present the whole package to George, his family and his neighbors, as he will take care, that each part comes under the right hands for sure. We asked, whether it's possible to send him some parcels regularely in the future. Unfortunately we needed to decline then, as in Kenya each parcel that arrives in the country, no matter whether it's for business or a present, is subject of taxation, that he can not afford.
After a short and a sad farewell, George drove away and we were flying back home into the snowy Germany.
Lions Very Close To Our Camp - Kenya
"All's well that ends well" [William Shakespeare]
And so we'll keep Kenya in memory with mixed feelings. Beautyful vast landscapes, but a trip under really hard conditions, if you don't choose the standard procedure. As we are against standards, I'm quite sure, that Kenya won't see us again…at least under these circumstances.
For us it has been a true survival and the one time or another, Thorsten had a conversation with George to make him understand, what the reason for this journey should be.
Furthermore we just were annoyed by all the people, who wanted to sell their stuff to us, as George didn't respect our wish to go into the wild, away from all the touristic spots.
He always stopped at those viewpoints, where dozens of his people stood around, ripping off money from the tourists. For instance they always offered ashtrays for $30... imported from China... for a price, which is the general income per month for a Kenyan.
So if you guys are planning to do a Safari…just do a standard one, but doing a real Safari is a completely different thing…it has its good sides and its downsides.
And -> you'll need a very strong stomach! 😉
I'm curious what you experienced in Kenya! Is anybody out there who made a roundtrip and some same experiences,  too? Someone who booked "our" George as driver? Your comments below are welcome!
Reminder: On TRAVELcandies.com you'll find much more images in HiRes  and with GPS-coordinates!